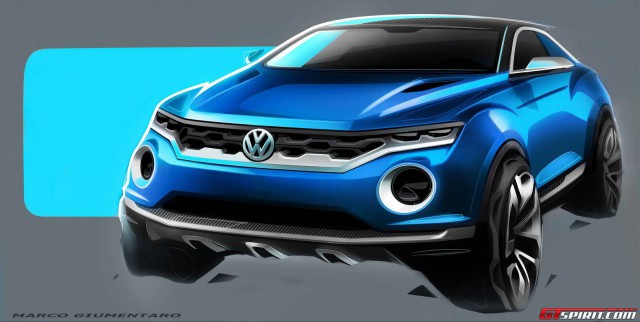 Volkswagen currently produce two industry defining SUV's the Tiguan and the Tuareg, now they are turning their sights to the future with the World premiere of the T-ROC Concept. In the mid-size segment, Volkswagen demonstrated in 2012 with the Cross Coupé concept car just how extremely fuel-efficient an all-wheel drive SUV can be with a TDI plug-in hybrid drive system.
The T-ROC is powered by a 181 horsepower turbodiesel engine with 380 Nm of torque, the same engine that is utilised in the impressive Golf GTD. The gearbox used here is a 7-speed DSG that is linked to the latest version 4MOTION permanent all-wheel drive with a Haldex-5 coupling. The T-ROC is equipped with three different operating modes; "Street", "Offroad" and "Snow". Each mode modifies the parameters of the potent 4MOTION all-wheel drive system, engine, 7-speed DSG (dual-clutch gearbox), ABS and hill start and hill descent assist systems. The modes are activated by an intuitively operated turn wheel on the DSG gear shift grip; the mode that is active is shown in a pop-up window in the fully digital instrument set.
Being a concept, the design of the car is something to be admired as the designers had the opportunity to use their imaginations. The SUV looks remarkably purposeful with it raised platform and mean front end that is built around the squinting front grille. We hope that something very similar will soon hit the roads be are sceptical that all of the technologies implemented, such as the outrageous tyres and wheels, will be filtered through to a road-worthy model.