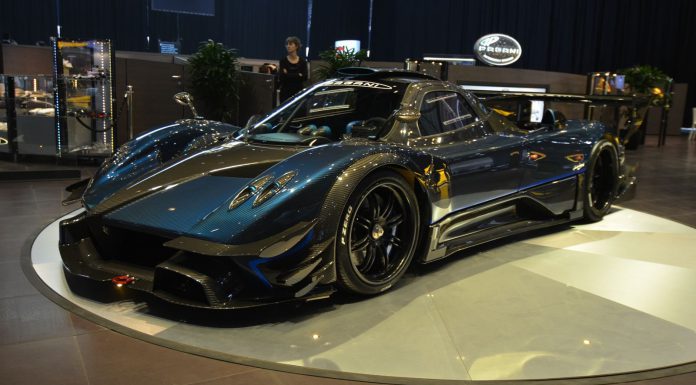 Pagani have the Pagani Zonda Revolución on display at the Geneva Motor Show 2014. There are no world premieres for the Italian brand, yet we thought you might like a closer look at the (quite frankly) awesome Pagani Zonda Revolución, presented in blue for the very first time!
The car was presented last year to Pagani owners at the Vanishing Point 2013 event. The Revolución is underpinned by a carbon-titanium monocoque. Most of the parts are brand new and are not carried over from the Zonda, including entirely new front and rear subframes. The Pagani Zonda Revolución gets a new DRS (Drag Reduction System) on the rear wing.
The engine is a race-bred 6.0-liter V12 Mercedes-AMG unit, an evolution of other V12 engines used in earlier Pagani Zonda models. Total output is up to 800 hp and 730 Nm of torque. It uses a 6-speed magnesium transversal, sequential gearbox to transfer to power to the ground via the rear wheels. The Bosch traction control system has a staggering 12 different settings and the ABS system gets a complete overhaul.
Only 5 of these cars will be made, each with a price of €2.2 million plus taxes. This is the fifth and very last example to receive the upgraded kit. It features a blend of black and blue carbon fibre coachwork together with blue trims both on the outside and inside.
If you want to find out more about the Pagani Zonda Revolución, take a look at our earlier article. For more Geneva Motor Show 2014 new, take a look at our dedicated channel!