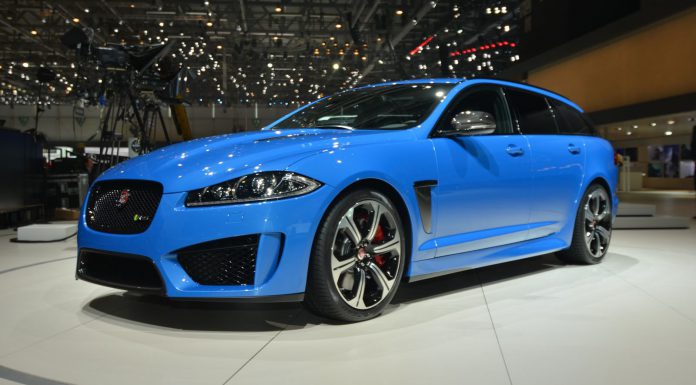 The Jaguar XFR-S Sportbrake has now been officially unveiled at the Geneva Motor Show 2014. This is the first time Jaguar have seen fit to drop the range-topping supercharged V8 engine under the hood of the Sportbrake. As such, it becomes one of the fastest Jaguar production cars currently on offer! We took a closer look at it on display.
The Jaguar XFR-S Sportbrake gets the 5.0 litre V8 supercharged, similar to most other performance Jaguar Land Rover products. It produces a staggering 550 hp and 680 Nm of torque. Arguably, the most noticeable change is that the exterior features the same stunning blue as the Sedan, together with its blacked out chrome details!
The Jaguar XFR-S Sportbrake gets 20-inch Varuna-design alloy wheels, wider front grilles and plenty of carbon fibre. The front bumper gets wider air intakes and bonnet vents to diffuse all that extra heat. The rear gets a rear window spoiler and a carbon fibre rear diffuser. The sports exhaust finishes off the rear styling very nicely.

If you want to read more about the Jaguar XFR-S Sportbrake, take a look at our earlier article. Follow all the events at the Geneva Motor Show 2014 by reading our dedicated news channel!