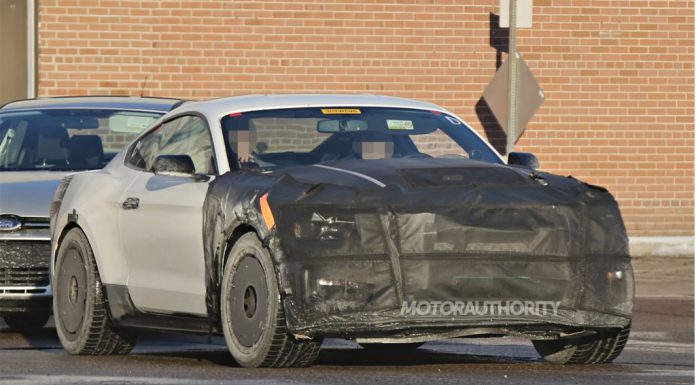 Ford is already hard at work creating the next-performance oriented model of the 2015 Ford Mustang follow last year's introduction of the 5.0-liter V8 powered Mustang GT. Recently spied, the latest Mustang variant believed to be the Mustang GT350, is that performance oriented model and will top out the Mustang range for the foreseeable future.
Previous reports have suggested that the latest Ford Mustang GT350 would actually replace the outgoing GT500. However, Ford has yet to confirm or deny these suggestions. Nevertheless, the new Mustang GT350 will drop the Shelby nameplate.
[youtube]https://www.youtube.com/watch?v=ktIM-dlSTpU#t=52[/youtube]
In the front on spy shot you see above, the visual changes to the 2016 Ford Mustang GT350 are apparent. It features a redesigned hood with a massive scoop. This scoop pretty much confirms that the GT350 will feature some sort of forced induction. Based on the history of high-performance Mustangs with superchargers, we think that is the best possibility.
The following video was recently filmed on Mulholland Drive and is believed to have captured one of the very first 2016 Ford Mustang GT350 prototypes. While the clip doesn't really give us any more clues about styling, we can at least hear the throaty V8 engine roaring away at idle and under light acceleration. As you would imagine, it sounds amazing!
[Via Motor Authority]