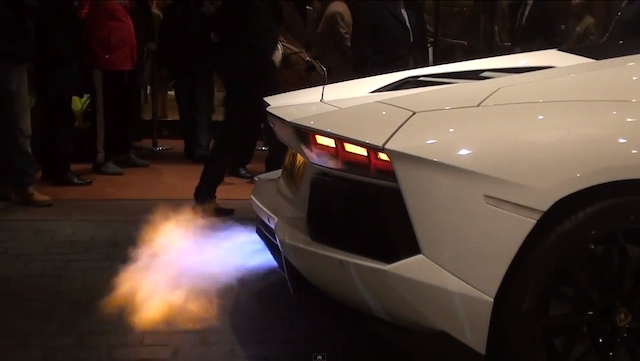 The Lamborghini Aventador Roadster is a phenomenal piece of kit. The Aventador Roadster features a centrally located, 6.5 liter aspirated V12 generating 700hp, an ISR seven-speed gearbox and push-rod suspension. It accelerates from 0 to 100km/h in just 2.9 seconds and has a maximum speed of some 350km/h. These figures are all similar to those of the coupe that shares the same power plant.
[youtube]http://youtu.be/kK0RPFIivno[/youtube]
Here we have a video filmed outside the Jumeirah Carlton Tower in Knightsbridge, London, where a wedding was taking place. The Aventador Roadster pulled up outside and pulled out its true party trick. A hot exhaust and unburnt fuel resulted in some gigantic flames that brought the wedding to a stand still!