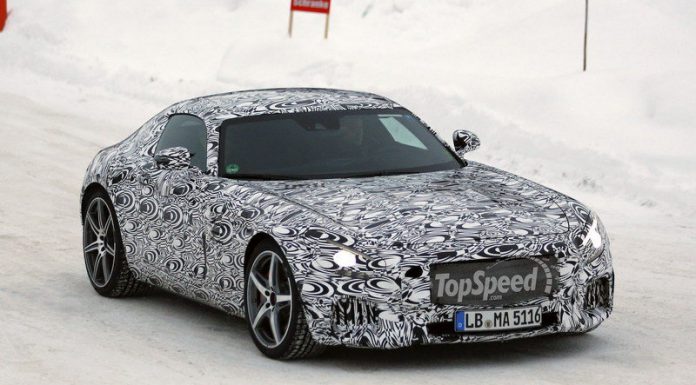 Testing of the upcoming 2015 Mercedes-Benz AMG GT is progressing as the new range-topping Mercedes-Benz sports car approaches its imminent reveal later this year.
These spyshots showcase the new AMG GT undergoing cold-weather testing and from a design standpoint, this prototype looks quite a lot smaller than the outgoing Mercedes-Benz SLS AMG. The front end appears smaller while the roofline also looks a little lower and more streamlined than the SLS AMG.
While it currently remains unclear whether the AMG GT name will stick through to production, recent reports emerged suggesting that the AMG GT will be initially revealed online sometime in September before being officially revealed at the Paris Motor Show 2014 in October.
While the Mercedes-Benz AMG GT won't act as a direct successor to the SLS, it will replace it at the top of the Mercedes-Benz range and is set to take the fight to the Porsche 911 range. Two or three engines are said to be available with each delivering different power outputs and wearing different price tags. The range will be topped out be a twin-turbocharged 4.0-liter V8 engine set to produce around 500 hp and upwards of 570 hp in Black Series specification.
A debut at Paris seems far more likely than one at the German Formula Grand Prix as previously speculated.
[Via Top Speed]