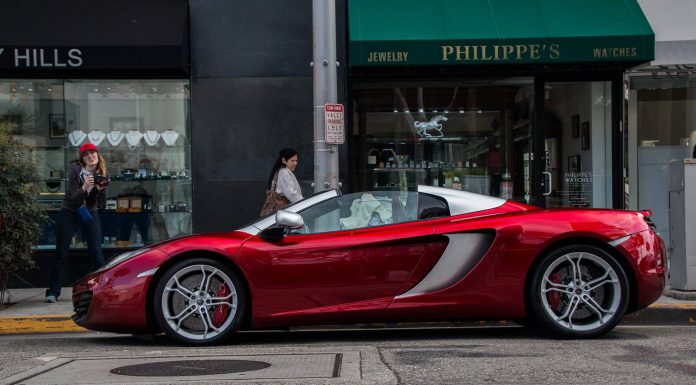 The McLaren 12C Spider is a very tempting package. The Coupe featured a carbon tub that gave it such high levels of rigidity and strength making the 12C one of the stiffest and most compliant cars on sale. The use of the single piece tub also meant that taking the roof off the 12C would not change the cars super balance and handling characteristics.
The car therefore presented buyers with the opportunity to experience more speed than you could ever need on the road but with added sunshine and the wind flowing through their hair without any compromise. The owner of this particular car that was spotted in Beverly Hills opted to spec their car in a very striking color scheme. The majority of the panels have been finished in a deep red that looks as if it was selected from a Ferrari color pallet which has been contrasted against aluminum silver side blades, mirrors, windshield frame and rear buttresses that are unique to the spider.
As a reminder, the McLaren 12C features the same engine as the 12C coupe. That is a 3.8-liter twin-turbocharged V8 engine delivering 616 hp and 600 Nm of torque. This makes for a zero to 100 km/h time of just 3.1 seconds, exactly the same as the coupe. To 200 km/h it takes nine seconds, which is 0.2 seconds slower than the coupe while top speed is 3 km/h short to the fixed roof 12C at 329 km/h.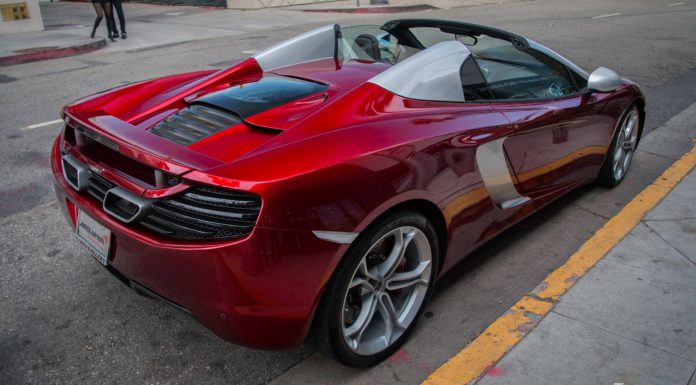 Photographer: Tstoff