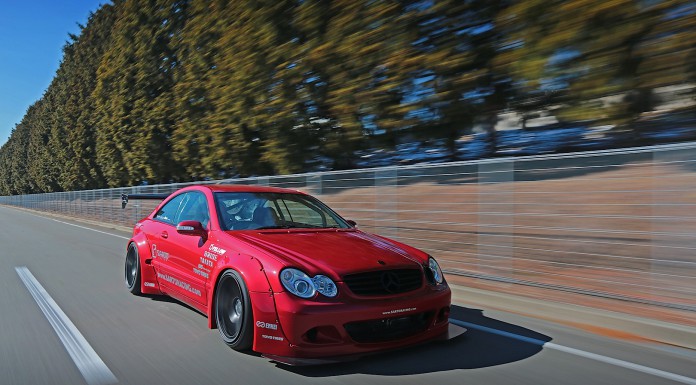 While Rocket Bunny is more known for creating body kits for Toyotas and Nissans like this recent GT-R, the Japanese tuner recently took it upon themselves to absolutely transform a Mercedes-Benz CLK and the results are truly phenomenal. Speedhunters recently had a tour of the car.
The bodykit features bolt on widened wheel arches similar to the ones frequently implemented by fellow Japanese tuner LB Performance. These new wheel arches are hiding some truly massive wheels with the rears featuring some negative camber to help minimise wheel scrap with the new fender walls.
Additionally, the Mercedes-Benz CLK by Rocket Bunny features a huge, racing inspired rear wing as well as a racing diffuser. Moving to the front, it features a redesigned fascia with performance in mind. This has seen the installation of a massive splitter as well as the removal of a headlight to help feed in cold air into the engine's intake.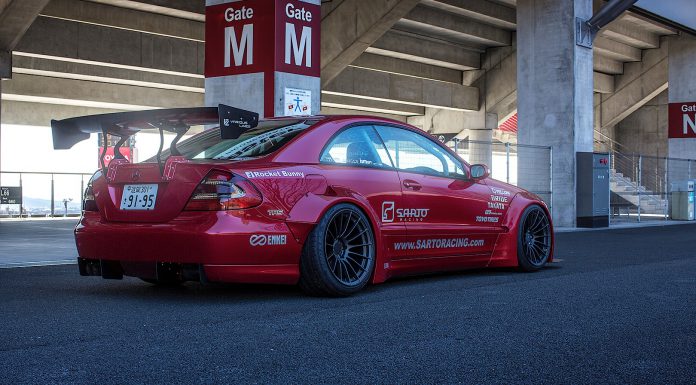 To strip down on weight, the Mercedes-Benz CLK by Rocket Bunny features a sparse racing-inspired cabin void of almost all of the traditional Mercedes-Benz luxuries. It features new lightweight Bride racing seats, no carpets, no rear seats, a full roll cage, racing steering wheel and a racing inspired hand brake. Interestingly, this car left the Mercedes factory as an automatic but has since been fitted with a six-speed manual.
As we speak, it is still fitted with the standard 2.6-liter V6 delivering 170 hp. However, an engine change is inevitable.
[Via Speedhunters]