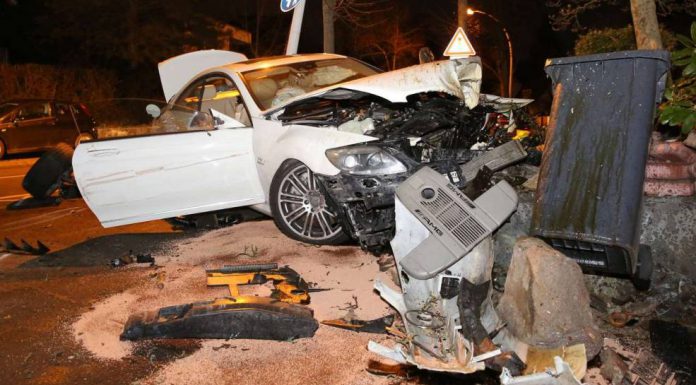 A once pristine white Mercedes-Benz CL 63 AMG has been absolutely destroyed in a high-speed crash in Bonn, Germany.
The crash saw the CL 63 AMG crashed through two light poles before coming to a rest after hitting a solid concrete garden wall. Both occupants, a man aged 51 and a women aged 40, were found to be under the influence of alcohol at the time of the crash.
After the crash, the male left the scene but was later found by police within walking distance of his apartment. Both he and the female deny having caused the crash, but it seems quite apparent that they did.
It is currently unclear who the car belongs to, but the luxurious performance-oriented Mercedes-Benz is definitely a complete write-off.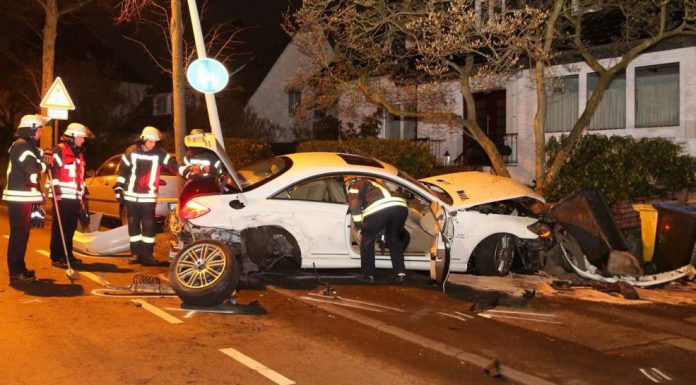 For those familiar with the Mercedes-Benz line-up, you'll know that the recently revealed S-Class Coupe will supersede the CL-Class. Nevertheless, in top CL 65 AMG specification, the car destroyed in this horrific crash features a twin-turbocharged 6.0-liter V12 engine delivering an extremely impressive 621 hp and 738 lb-ft of torque. That torque figure is more than the Aventador, F12 Berlinetta and McLaren 12C.
When in operating condition, the CL 65 AMG can hit 60 mph from a standstill in just over 4 seconds and an electronically limited top speed of 189 mph.
[Via Bild]