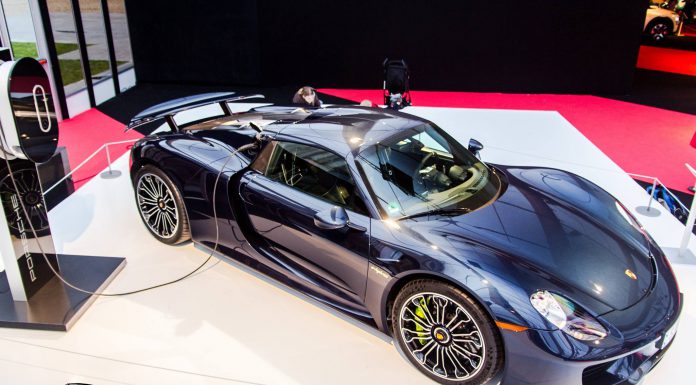 The Porsche 918 Spyder complete with the rather aggressive Weissach package has been on dislay once again, this time at Retromobile 2014 in Paris. Before we get to the performance upgrades found on the Weissach-equipped Porsche 918 Spyder, it is worth nothing the few styling changes.
Most significantly, the Porsche 918 Spyder Weissach features additional carbon fiber fins on the rear wheel arches. Additionally, it features a much larger carbon fiber rear wing as well as more sporty wheels.
However, the headline for the Weissach Package is improved performance. From zero to 100 km/h takes just 2.6 seconds, 0.2 seconds faster than the standard model. It takes just 7.2 seconds to travel from zero to 200 km/h in 7.2 seconds (a 0.5 second reduction), and 19.9 seconds to pass the 300 km/h mark (a 2.1 second reduction). Needless to say, this is the car that set the Nurburgring lap time!
This stunning image was captured by Vmgt2 Automotive. For more on the 918 be sure to check out our in depth review of the car!