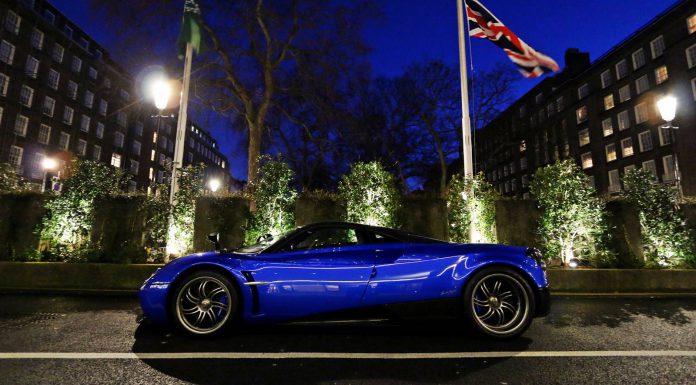 One of the most recognisable Pagani Huayras on the planet has to be the stunning blue example which you see above. It was spotted and filmed in London on multiple occasions last summer, and has now returned and was snapped by Aaron 167 Photographic.
The blue exterior paint job looks absolutely stunning on the Huayra. When combined with colour matched brake calipers, and a host of bare carbon fiber components, this is definitely one of the best looking Huayras produced thus far.
GTspirit Road Test of Pagani Huayra

At the heart of the Huayra is the M158 twelve-cylinder biturbo engine sourced through AMG. This is a new unit developed together with the German engineers at Affolterbach to meet Pagani's specific needs in terms of technical specification and quality.
From 6.0 liters AMG managed to extact an astonishing 720 hp and 1,000 Nm of maximum torque. The power is converted to the rear wheels through a transverse sequential seven-speed gearbox with a dual plate clutch in favor over a dual-clutch system which is uniquely positioned low in the center of the car to reduce centre of gravity. Alone, this saves 70 kg of weight.
This upcoming summer in London has the potential to be even more exciting than 2013, with McLaren P1s, LaFerraris, Porsche 918 Spyders and a selection of new hypercars and supercars likely to roll through the streets!