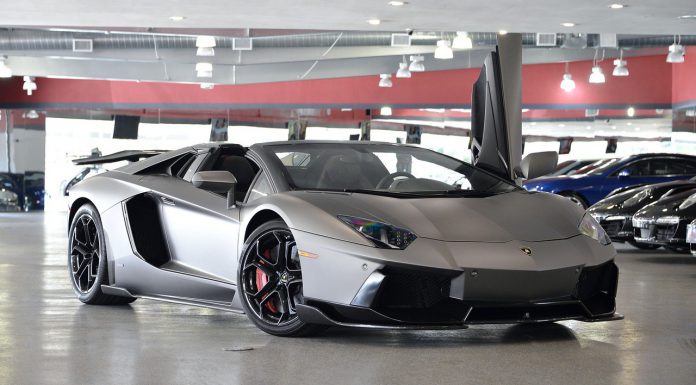 A Liberty Walk Lamborghini Aventador Roadster has hit the market care of Exotic Euro Cars, based in California, USA! The matte grey car looks to have been fitted with a huge amount of after market parts from the Japanese Lamborghini specialist Liberty Walk. It is being advertised for a substantial sum of money though; $669,900!
For those with that level of disposable income and who are looking for a unique, complete tuning package, this might look to be a very desirable package. The Liberty Walk carbon fibre package includes a front bumper, rear lower bumper, carbon side skirts and carbon tail. The carbon fibre contrast perfectly with the Grigio Tittan paintwork.
Inside there appears to be liberal lashings of alcantara finished in Nero Ade colouring with carbon fibre accents. The interior is apparently factory specced through the Ad Personum program. The car itself comes with as good as delivery milage; 665 miles. The car looks to be fitted with a set of standard Lamborghini wheels at the moment, however, the advert offers the car in any combination of Forgiato wheels.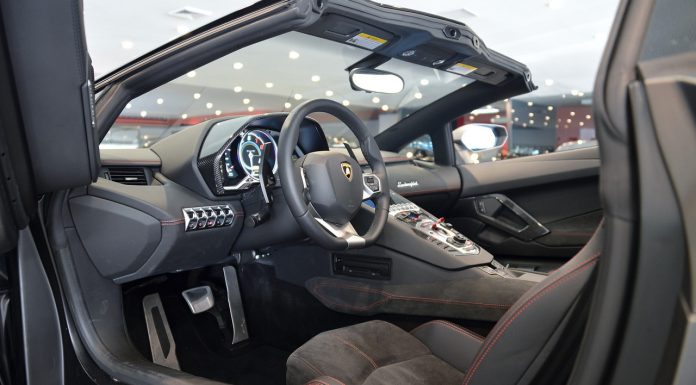 Underneath, the mechanicals have not been touched meaning this Lamborghini Aventador Roadster features the same 6.5 litre V12 engine as every other car. It produces 700 hp and 690 Nm of torque. Thanks to the four-wheel drive system, the Lamborghini Aventador Roadster reaches 100 km/h in just 2.9 seconds with a top speed equaling that of the coupe at 349 km/h (217 mph).