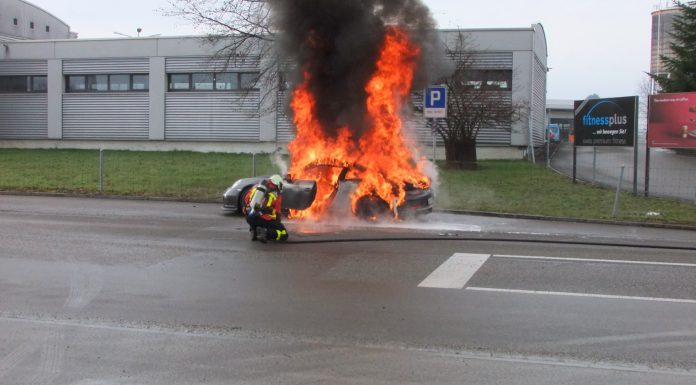 According to brand new reports, deliveries of the 2014 Porsche 911 GT3 are being suspended following a spate of fires since the car went on sale late last year. This speculation has come to surface following a recent blaze which completely destroyed a silver 991 911 GT3 in Switzerland.
This story is eerily similar to what happened when the Ferrari 458 Italia first went on sale and was later recalled due to a selection of fires. According to an administrator from an Italian Porsche Club called Porsche Club Campania, no less than five 911 GT3s have caught fire in Europe believed to be caused by the same problem.
It is suggested that while driving, the Low Oil Pressure warning light comes on and before long, the car catches fire. This doesn't appear to be caused by error in maintenance from the owner, as one GT3 was brand new with just 60 kilometres on the clock when it caught fire.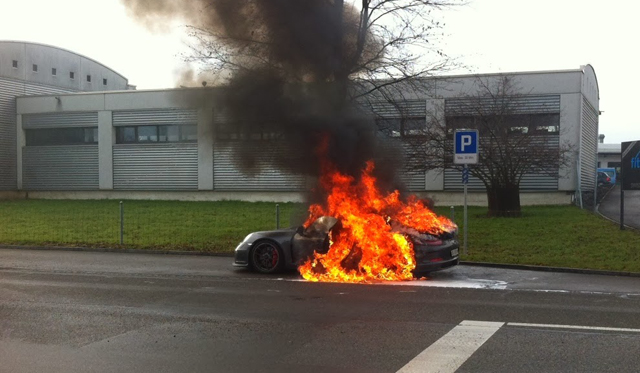 While speaking with Axis of Oversteer, a source close to Porsche said this, "Effective immediately and until further notice, delivery of any new 2014 911 GT3 units must be suspended. This Stop Sale action is being taken in order to investigate a quality issue that potentially exists with the engine of the subject vehicles. While additional details are not readily available, please know this matter is of the highest priority in the Porsche organization"
Update: Porsche told GTspirit that they are investigating the case and, if necessary, will inform customers and the public as quickly as possible about the results of the investigation.