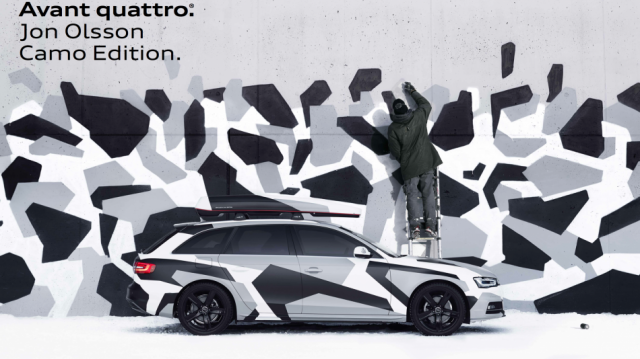 Jon Olsson's recently revealed camo Audi RS6 Avant has drawn so much attention and admiration from fans around the world and Audi itself that the German marque has decided to create a very special Jon Olsson version of the Audi A4 Avant 2.0 TDI! Available only in Sweden, the car is dubbed the A4 Avant 2.0 TDI Jon Olsson Camo Edition and as the name suggests, it features an awesome black, white and grey camouflaged paintjob!
In addition to the eye-catching paint, the Audi A4 Jon Olsson Camo Edition includes a roof box, S-line exterior package, sports suspension as well as new winter tyres with 19-inch wheels. The car will set Swedish buyers back the equivalent of $62,106 USD.
Jon Olsson's Camo Audi RS6 Avant

While speaking about the special edition, Olsson said, "I think this might be the coolest thing that has yet to happen to me (sic). I have always had big dreams with everything I have done and always aimed for the top in everything, but when I saw this add in a magazine I kind of thought that I was dreaming.
"Together with Audi I have designed the Jon Olsson Camo Edition, a limited production version of my camo cars, the Audi A4- Jon Olsson Camo edition! I have had a lot of signature products over the years, but having a Jon olsson edition car, thats something I never dreamed of when I was driving up the mountains 20 years ago looking at the ski team Audis that were passing us in our old Volvo station wagon that barely made it up the hill!"