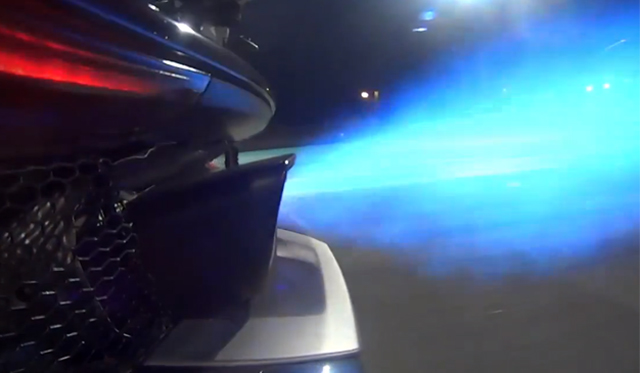 Nothing quite screams brutal performance than an epic supercar spitting ferocious flames. With its 6.5-liter V12 engine delivering 692 hp, the Lamborghini Aventador has held the crown for being the most ferocious flame spitting supercar on the market for quite some time. However, after watching this epic video, you'll inevitably agree that the 903 hp McLaren P1 is definitely the new king!
[youtube]http://www.youtube.com/watch?v=1t1L5ShVR8w[/youtube]
Two factory McLaren P1s recently headed to the Formula One Yas Marina Circuit in Abu Dhabi for a McLaren Owner's event and once they are fully warmed up and under full acceleration, the short exhaust of the McLaren P1 reaches 900 degrees. When combined with high revs and unburnt fuel exiting the exhaust, these P1s can be seen literally spitting hot blue flames through every gear under full acceleration down the straights!
It really is an incredible sight to behold!
As a reminder, the McLaren P1 which we happened to drive recently, is part of the new breed of hybrid hypercars. It features the 3.8 litre V8 M838TQ engine (upgraded from the M838T of the 12C production road car). Whilst on paper it looks to share similarities with the 12C's powerplant, that is far from the full picture. The McLaren P1 features a completely re-engineered twin-turbo variant of the V8 powerplant.
The M838TQ variant of the 3.8 litre V8 features a unique engine block casting which incorporates the electric motor. It gets all new turbochargers which run at 2.4 bar pressure, dry sump lubrication and a low sited flat plane crankshaft. On its own, the engine produces 727 bhp at 7,300rpm, and 720Nm of torque from 4,000rpm. This engine is then combined by an electric motor delivering 176 hp and 260 Nm of torque.