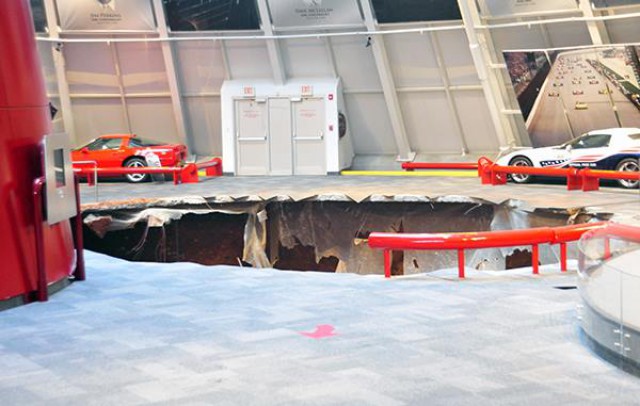 This morning was not a good one for Corvette enthusiasts, or car enthusiasts generally for that matter. At around 5:44 am Eastern Time, motion sensors were set off in the Skydome of the National Corvette Museum when 8 very rare and unique examples of the Chevrolet Corvette were swallowed into the ground.
The National Corvette Museum, located in Bowling Green, Kentucky, is also the factory in which Corvettes are built and shipped out all over the world. According to Wendell Strode, the museum's executive director, the hole is about 25 to 30 feet deep and is about 40 feet wide.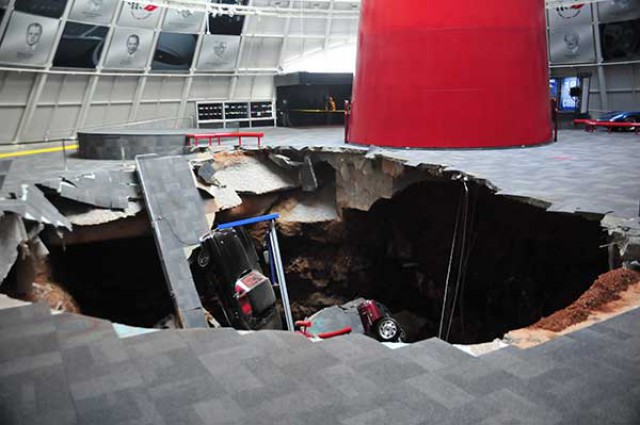 During the day, a press release by the National Corvette Museum listed the cars destroyed by the sinkhole. They include:
– 1993 ZR-1 Spyder on loan from General Motors
– 2009 ZR1 "Blue Devil" on loan from General Motors
The other six vehicles were owned by the National Corvette Museum including:
– 1962 Black Corvette
– 1984 PPG Pace Car
– 1992 White 1 Millionth Corvette
– 1993 Ruby Red 40th Anniversary Corvette
– 2001 Mallett Hammer Z06 Corvette
– 2009 White 1.5 Millionth Corvette
According to reports, nobody was in the building at the time the hole opened up and no further damage has been reported. Rather obviously, the Skydome will be closed until further notice, but, the rest of the museum remains open to the public.
[youtube]http://youtu.be/Q0LzlBY7b_g[/youtube]