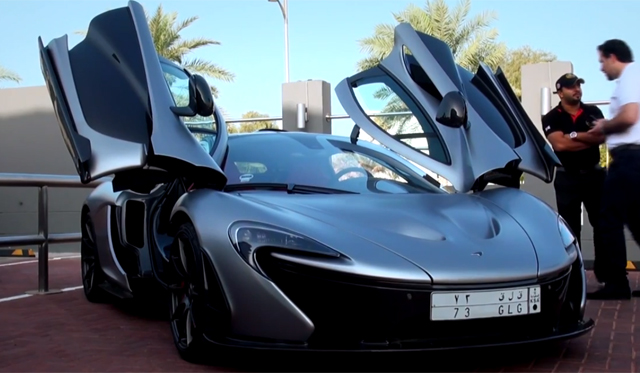 The awesome McLaren P1 set to be driven by Team Galag at the upcoming Gumball 3000 2014 is now out on the roads in Dubai and 4WheelsofLux recently managed to check it out at Cars & Coffee Dubai!
[youtube]http://www.youtube.com/watch?v=EzM99O2OTwM[/youtube]
With its unique Satin Grey finish, it truly looks incredible and unlike any other McLaren P1 we have seen before! While looking at is one thing, we recently had the exclusive chance to drive it and were understandably blown away!
The McLaren P1 is of course part of the new breed of hybrid hypercars. It features the 3.8 litre V8 M838TQ engine (upgraded from the M838T of the 12C production road car). Whilst on paper it looks to share similarities with the 12C's powerplant, that is far from the full picture. The McLaren P1 features a completely re-engineered twin-turbo variant of the V8 powerplant.
The M838TQ variant of the 3.8 litre V8 features a unique engine block casting which incorporates the electric motor. It gets all new turbochargers which run at 2.4 bar pressure, dry sump lubrication and a low sited flat plane crankshaft. On its own, the engine produces 727 bhp at 7,300rpm, and 720Nm of torque from 4,000rpm.
The hybrid drive comes via a single electric motor mounted behind the cockpit alongside the petrol counterpart. The electric motor showcases technology developed by McLaren Group's dedicated electronics arm. It produces 176 bhp and 130Nm of torque with an effective torque output of 260Nm thanks to gearing.