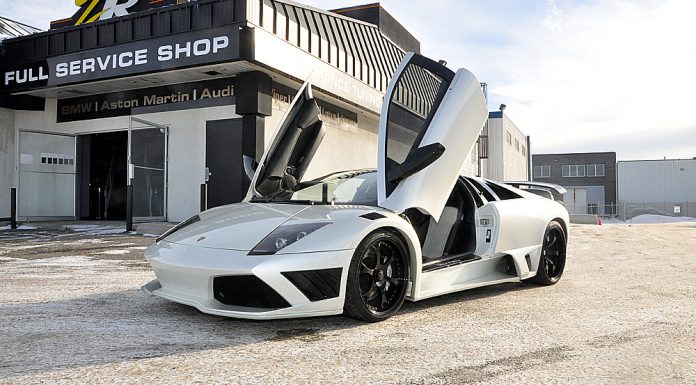 A stunning white Heffner-tuned widebody Lamborghini Murcielago is now up for sale at ZR Auto in Calgary. The car features an impressive 1300hp motor with a full twin-turbo system from Heffner Performance.
The engine features Pankl connecting rods, JE pistons and a 9.0 to 1 compression ratio. The turbo system consists of twin precision 72mm ball bearing turbos, custom water to air intercooler and AEM engine management system.
But it doesn't stop there! This 2002 Murcielago is equipped with a full widebody kit from IMSA, making it like no other Murcielago in the world.
The car features fully functional vents for both the front and rear wheel-wells to cool the brakes, LP640-4 tail lights, IMSA center-bolt wheels: 11-inch IMSA centre bolt rims and 265/30/ZR 19 Pirelli Rosso tires on the front and 13-inch IMSA centre bolt rims and 345/25/ZR 20 Pirelli Rosso's on the rear. The IMSA GTR also features an IMSA spoiler and full versace interior with highlighted carbon accents.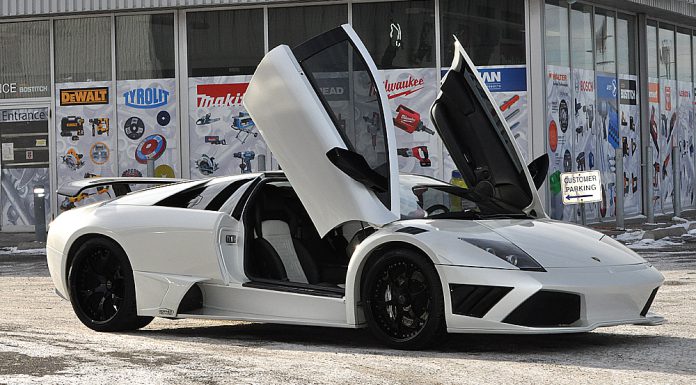 "This versace edition Murcielago is very rare," said Zahir Rana, owner of ZR Auto. "We put well over $250,000 into this car. For the interior, we stripped out the old one and had the full versace interior conversion flown in from IMSA in Germany. Then we sent the car to Heffner for the biggest, baddest turbos and gave this car a complete body re-style."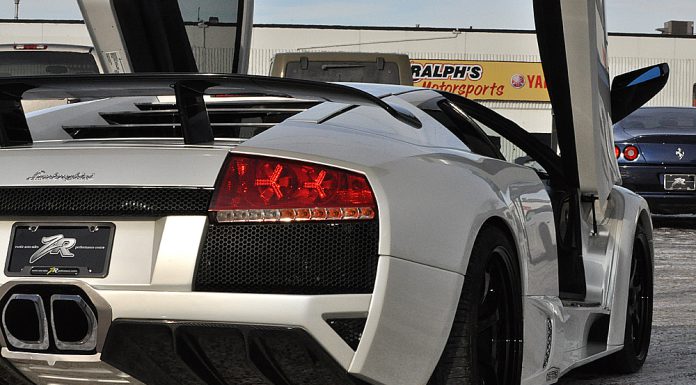 The car was unveiled in 2008 when a client took delivery of this IMSA GTR Murcielago. But now the owner is ready to move on, and ZR Auto has it back up for sale, asking a firm price of $200,000 CAD for this striking Lamborghini.
The Murcielago is tastefully customized, inside and out. It features a 6-speed manual gearbox and plenty of bells and whistles to make any prospective Lamborghini owner happy.
[youtube]http://www.youtube.com/watch?v=oilG0UTZ-zU[/youtube]