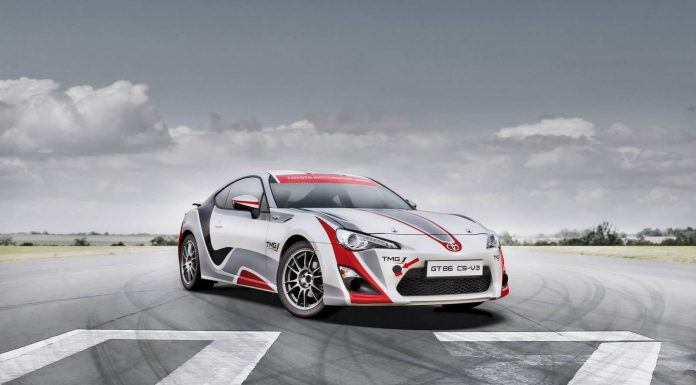 Toyota Motorsports recently took the wraps off its brand new TMG GT86 CS-V3 racing car and now we have new images of it. This follows the previous release of the CS-R3 destined for rallying competitions. Where the TMG GT86 CS-V3 differs however, is the fact that it is a tarmac based racer.
The TMG GT86 CS-V3 has already proven its track capability after winning the V3 class at the Nurburgring 24 Hours Endurance Race back in 2012. The CS-V3 also has national approval from the German DMSB, meaning it is eligible to race in a selection of other production-based racing championships in Europe!
Under the hood, it features a 2.0-liter four-cylinder Boxer engine based on the standard car. This powertrain features direct injection and drives the rear wheels. All up, it delivers 200 hp at around 7,000 rpm and 205 Nm of torque. Additionally, the racing spec TMG GT86 CS-V3 features a new racing exhaust.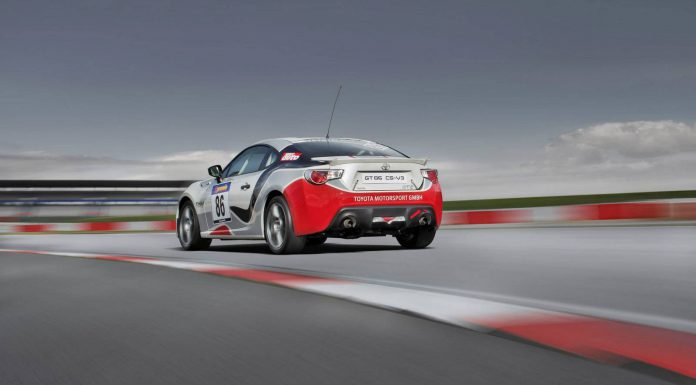 Additionally, it features advanced Öhlins suspension, braided brake lines, racing brake pads, ventilated front brake discs along with additional brake cooling. It comes standard with 17-inch alloy wheels completed with racing slick tyres. Other new features include a roll cage, racing seat, six-point safety harness, electronic fire extinguisher system, racing steering wheel as well as a quick release for both the hood and trunk.
So how much will all of this cost you? Price is set at 38,500 euros excluding tax.