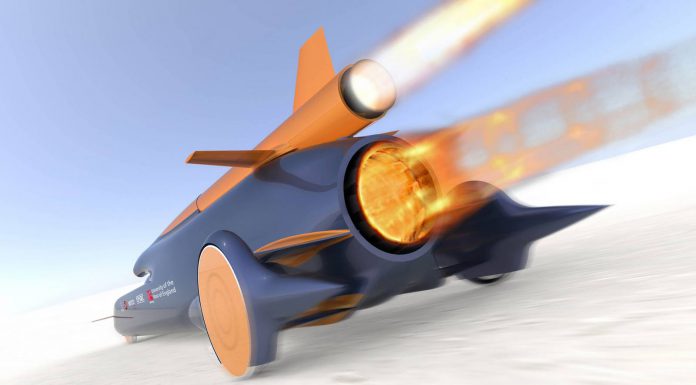 Research and development on the planned 1,000 mph Bloodhound SSC world land speed record car has been ongoing for the better part of 7 years. With its planned record run pegged in for some time next year, the final stages of development are being undertaken by the British based team of engineers. In order to give us a better idea of the philosophy and details behind the Bloodhound SSC, the following awesome clip has been released.
To see just how impressive this jet car is set to be, all you have to know is that it uses a 750hp Cosworth Formula One engine just to supply fuel to the hybrid rocket designed by 28-year-old rocketeer Daniel Jubb and all up, the Bloodhound will produce more than 135,000hp with a peak thrust output of 122,000Nm.
[youtube]http://www.youtube.com/watch?v=dZYijdv4pRM#t=408[/youtube]
The pilot, Andy Green, is currently the world's fastest man on land after his twin-jet powered Thrust SSC broke the sound barrier in 1997 after hitting 763mph, but his latest project, the Bloodhound SSC is set to destroy that record with its aim of hitting 1,050mph.
Helping to make the Bloodhound SSC's upcoming world land speed record run all the more exciting is the fact that it will be streamed live! No less than 16 cameras will adorn the Bloodhound both inside the cramped cockpit and outside ensuring every moment of the hopefully successful run is captured perfectly.
What's more, Andy Green's radio conversations will also be included in the coverage. Because this will literally be a once-in-a-lifetime event for many, numerous companies are expected to line-up to provide the coverage with multiple companies expected to play a role such as Cisco. Additionally Google, Microsoft and YouTube are all likely candidates to broadcast the event.