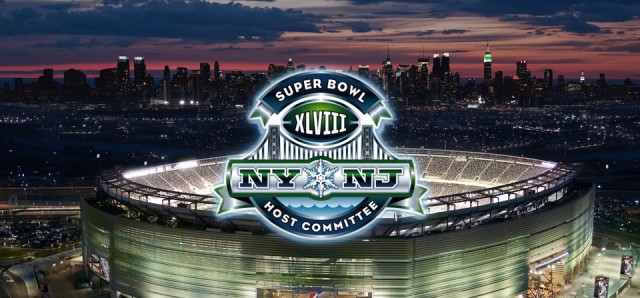 NFL Super Bowl XLVIII is due to kick off this Sunday and we've gathered the top Super Bowl 2014 Commercials! The 2014 instalment of the annual championship game will take place at the MetLife Stadium in East Rutherford, New Jersey on Sunday 01 February 2014. American Football Conference (AFC) champion Denver Broncos will take on National Football Conference (NFC) champion Seattle Seahawks to decide the National Football League (NFL) champion for the 2013 season.
Super Bowl XLVIII will be the first Super Bowl to be played outdoors in a cold weather environment and will feature both AFC and NFC league's top offense (Denver) v the top defence (Seattle). American Football fans are sure for a classic match. Bruno Mars and Red Hot Chilli Peppers will provide half time entertainment.
While the statistics are particularly interesting this time around, the advertising stakes are even more interesting. This year, the game will be hosted on the Fox network. Advertising costs are in the region of $4 million for a 30-second commercial. Naturally, some of the biggest names in the Automotive industry have signed up for a slot. We've gathered a summary of the best Super Bowl 2014 Commercials below!
Volkswagen
Volkswagen makes some of our favourite Super Bowl 2014 commercials historically. For Super Bowl 2014 they did not disappoint! Their light-hearted video focuses on the reliability of their cars. Apparently every time a VW hits 100,000 miles, a German engineer grows a pair of wings. Who knew…
The advert was created for Volkswagen by advertising agency Argonaut. It is very light hearted, very simple and very entertaining. If you like it, its probably best that you stay tuned to Volkswagen's social channels as its engineers with wings will appear in additional game-day videos and offer live responses to on-field developments.
[youtube]http://youtu.be/ns-p0BdUB5o[/youtube]
Jaguar
Being British, the Jaguar advert gets my vote as the pick of the bunch. Using the hashtag #goodtobebad and with a title 'British Villians Rendezvous', the advert features Ben Kingsley, Tom Hiddleston and Mark Strong. Three of the finest British villains! Naturally, the cars they advertise include the new Jaguar F-Type Coupé and the Jaguar XJR. Perfect choices if you ask us!
The Super Bowl 2014 Commercial was directed by Kings Speech director Tom Hooper and created by Jaguar's in-house Spark 44. This is Jaguar's first ever Super Bowl ad and they have setup a dedicated microsite for it. Visit BritishVillains.com for more Jaguar content.
[youtube]http://youtu.be/2Bls1KKDwmo[/youtube]
Audi
Audi's contribution focuses on the Audi A3 Sedan, although you'd be forgiven for forgetting that as the car doesn't actually feature until towards the end. It left us wondering if a Doberhuahua is actually possible…
It was designed by San Francisco-based Venables Bell & Partners and goes down in the annuals as Audi's seventh consecutive Super Bowl ad! The delivery of the message has apparently been designed to be as simple as possible. The switch is certainly distinct. One minute you are looking at an outrageous Doberhuahua, the next you see the Audi A3 Sedan in all its glory.
[youtube]http://youtu.be/zl0zw1YVZd4[/youtube]
Toyota
The new Toyota Highlander gets some attention alongside the Muppets in the Toyota ad this year. US Super Bowl 2014 Commercials viewers will be treated to Terry Crews from Brooklyn Nine-Nine and a whole bunch of chaos and mayhem. Depending on your love for the Muppets you'll either love or hate this one!
[youtube]http://youtu.be/N5A3R4XqhOA[/youtube]
Kia
Kia tells us to challenge the luxury we know in their Super Bowl 2014 advert. Laurence Fishburne stars in his role as Morpheus from the Matrix travelling in the brand new Kia K900 sedan. The ad was devised by ad agency David & Goliath. It serves as a Matrix parody and you also get to hear Fishburne sing Nessun Dorma. What more could anyone want?
[youtube]http://youtu.be/Ob-wn52Dkmk[/youtube]
Hyundai
If the Hyundai ad proves one thing and one thing only, it is that you shouldn't buy the new Hyundai Elantra if you are looking to pick up ladies with superpowers… I imagine post-Iron Man 3 Tony Stark will take note… The advert features Richard Lewis and Big Bang Theory's Johnny Galecki.
[youtube]http://youtu.be/yWiPEe-RiCM[/youtube]
In the second of Hyundai's Super Bowl 2014 commercials, the 2015 Hyundai Genesis fares slightly better. It is a strictly family affair with a father and son demonstrating the safety credentials of the Hyundai sedan. Innocean created both of Hyundai's adverts.
[youtube]http://youtu.be/RGr9t5Wfrv0[/youtube]
Chevrolet
Hello ladies. The 2014 Chevrolet Super Bowl XLVIII advert pushes the towing capabilities of the Chevrolet Silverado HD pickup. Its tough enough for Bull breeders is the underlying message here… we think… The ad was designed by Leo Burnett and a second General Motors advert will also play during the game. It is being kept under wraps until game day.
[youtube]http://youtu.be/p3Mbux4gl3Q[/youtube]
Budweiser
Budweiser have no less than five Super Bowl 2014 Commercials this year. The first is particularly special for the American brand. What originally started as a 30 second slot for Buddweiser, turned into a full-blown 60 second slot during the editing process. Naturally, the advert plays on US national pride, featuring a soldier returning home to a rapturous reception.
Get involved with this one on Twitter with the hashtag #saluteahero!
[youtube]http://youtu.be/K7L5QByvXOQ[/youtube]
The second is an ad titled Puppy Love with the associated hashtag #bestbuds. It follows on from the previous year's advert. It features an escapee labrador puppy and some rather defensive horses. Its one of those warm and fuzzy inside Super Bowl 2014 Commercials.
[youtube]http://youtu.be/uQB7QRyF4p4[/youtube]
The final Budweiser Super Bowl XLVIII commercials will include Arnold Schwarzenegger, Don Cheadle and comedian/musician Reggie Watts!
Axe
Axe have a 30 second slot for Super Bowl XLVIII advertising the new fragrance, Peace. The advert features scenes of war and oppressive regimes which is swiftly turned on its head to present a serious message; Make Love Not War. Not what we'd normally expect to see from the fragrance manufacturer!
Axe employed advertising agency BBH London for the Super Bowl 2014 Commercial as they have done with previous commercials. BHH London wanted to do something different to their normal and this is the result!
[youtube]http://youtu.be/63b4O_2HCYM[/youtube]
CarMax
The CarMax commercial for Super Bowl XLVIII sees a slow clap for a man who buys a car. The advert was the brainchild of the Silver & Partners who created two versions of the video. The below example is the one that will show on big game day! Stay tuned until the end to see the alternative versin.
[youtube]http://youtu.be/URgQdz7qd8A[/youtube]
Coca Cola
Coca Cola have two Super Bowl 2014 Commercials to share with us. It features an American underdog chasing his dream. We're told that Coca-Cola has donated $50,000 to Boys & Girls Clubs of America which is of course a very nice sentiment. The second advert is being kept very close to Coca-Cola's corporate chest. We'll see it on game day.
[youtube]http://youtu.be/QKi2wjELK6A[/youtube]
Pepsi
Pepsi is the half-time sponsor for Super Bowl XLVIII and has therefore made a big investment on advertising elsewhere at the Super Bowl. This hasn't stopped them from purchasing a single 30 second slot though. The below video will be the introduction to your half time entertainment!
[youtube]http://youtu.be/iISQEwleMuo[/youtube]
Chrysler
Chrysler Group have kept their contribution to Super Bowl 2014 under wraps so far. That hasn't stopped information leaking out though. Some are suggesting the advert will star Bob Dylan!