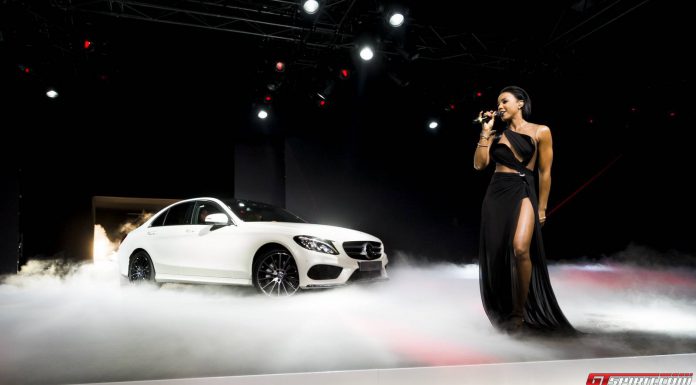 The night before the Detroit Motor Show 2014, GTspirit and Mercedes-Benz had a celebration of sorts. We'd escorted the brand new Mercedes-Benz C-Class safely to its North American debut at the Detroit Motor Show and were rewarded with an exclusive preview of the 2014 Mercedes-Benz C-Class together with a private concert by Kelly Rowland. It was a fantastic way to bring the Mercedes-Benz Road Trip 2014 to a close! We're slightly delayed in bringing these photos to you but we hope you are still able to enjoy them.
The 2014 Mercedes-Benz C-Class sheds 100 kilograms over the previous generation and offers excellent aerodynamics together with new, economical engines. The C-Class is Mercedes-Benz's biggest selling model and, therefore, is expected to sell very well indeed. The previous generation sold over 2.4 million units since its launch in 2007.The Saloon is available to order from today and German prices (including 19% VAT) will see the Mercedes-Benz C 180 Saloon priced from 33,558 euros, the C 200 Saloon priced from 36,414 euros and the C 220 BlueTEC priced from 38,675 euros.
From Launch, 3 model variants will be available, a diesel in the guise of the Mercedes-Benz C 220 BlueTEC and the two petrol models, the C 180 and C 200. The range of engines will increase after launch to include a new small 4-cylinder diesel engine with a displacement of 1.6 litres and single-stage supercharged. This will be offered with 115 or 136 hp of power and 280 or 320 Nm of torque. Stay put for more from Detroit Motor Show 2014 from us.