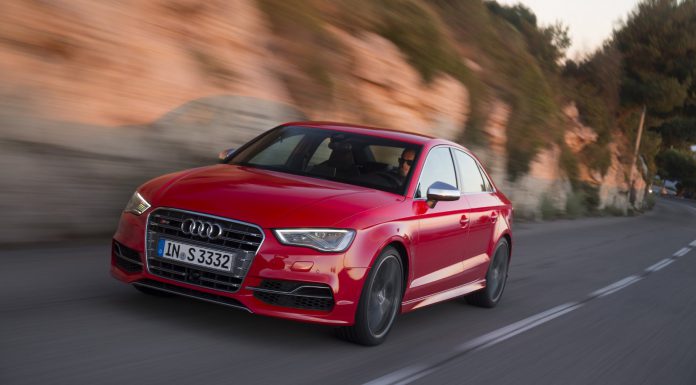 According to new reports, Audi could be set to bridge the gap between the Audi S3 and the Audi RS3 with the release of a brand new car dubbed the S3 Plus and set to launch by the end of the year.
Under the hood, the Audi S3 Plus could feature a heavily upgraded EA888 turbocharged 2.0-liter four-cylinder engine delivering an insane 375 hp. If true, this would make the Audi S3 Plus the most powerful four-cylinder production car in the world with it being 20 hp more powerful than the current record holders, the Mercedes-Benz A 45 AMG and CLA 45 AMG.
GTspirit Road Test of Audi S3

If sources inside the Volkswagen Group are to be believed, dyno testing of the engine has already seen it surpase the 355 hp of the A 45 AMG and CLA 45 AMG and could debut it alone at the Volkswagen GTI festival in Austria in May. Following on from this, the upgraded EA888 powerplant could debut inside a prototype of the Audi S3 Plus at the Paris Motor Show or the Los Angeles Motor Show later this year.
While discussing the new engine, a senior Audi engineering source said, "There will be no overlap because there is a lot of development available to the five-cylinder engine. But we are all very enthusiastic about the four-cylinder. Audi has taken the lead on the development of this engine, because it's an EA888 engine and that's an Audi engine.
"It's faster and stronger than what we already have, but it won't replace what we have. It will be in addition to what we have. There is enough space for all three of the engines at the top."
Another source went on to claim that "It's going to be a very fast car. Because it will be able to use all of its torque in first gear, it's going to get to 100km/h in the very low four-second bracket."
[Via Motoring]