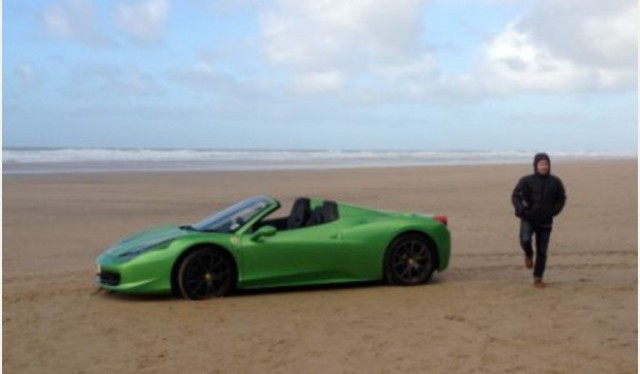 A Ferrari 458 Spider was stranded on Exeter Beach in the UK it has been revealed. The bespoke metallic green Ferrari 458 Spider was placed on to the sand at Exeter Beach as part of a photo shoot for an upcoming edition of the Italian brand's in-house Ferrari Magazine.
The car had to be rescued by the very vehicle that left the tracks which caused the incident in the first place. The Ferrari 458 Spider was trailered on to the beach and dropped in place for the photo shoot. When the trailer dropped the car, it sank into ruts created by a tractor. Fortunately, the tractor was able to free the car and the shoot continued.
The shoot was arranged in conjunction with Exetr's Watergate Bay Hotel who own the beach in this particular area. The Ferrari 458 Spider sustained no damage during the incident and the car was not driven on the sands. Hopefully we'll see the result of the photo shoot very soon!
[Via Exeterexpressandecho]