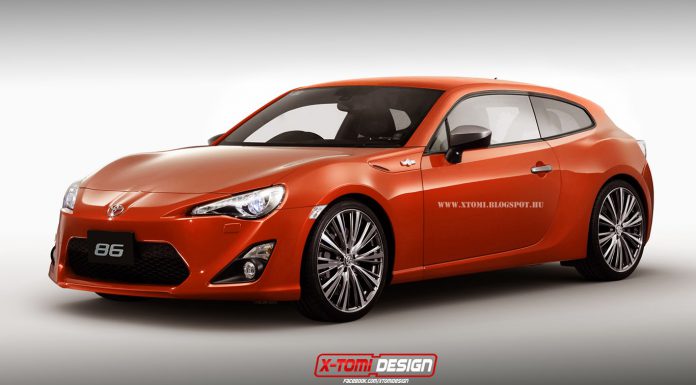 For anyone interested in the affordable sports car market and more specifically, the Toyota GT86 and Subaru BRZ duo, you'll know that a GT86 Sedan version is currently on the cards. While that car has yet to be leaked, teased or let alone revealed, in recent months rendering artists have come up with some accurate depictions of how the finished product will look.
However, if you're familiar with sedans also offered as two doors or vice versa, you'll know that the four-door version generally doesn't look as good as the coupe. So how could Toyota keep the great looks of the GT86 sports car while also increasing cabin and luggage space? Well, X-Tomi Design has put together the following renderings of a Toyota GT86 Shooting Brake and not only does it perform the aforementioned size increases, it also looks quite superb.
Featuring a traditional Shooting Brake shape, this rendering depicts this Toyota GT86 with a much longer tail inevitably leading to more legroom for passengers in the rear as well as greater luggage space in the trunk.
If we were Toyota, we'd definitely be favouring a GT86 Shooting Brake over a GT86 Sedan.
Which would you prefer, Shooting Brake or Sedan? Let us know by leaving your thoughts below!
[Via X-Tomi Design]