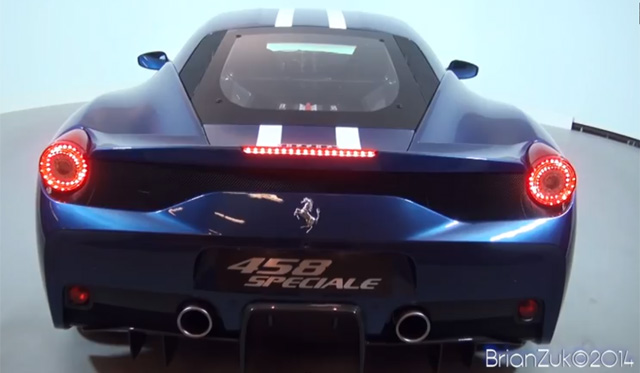 While GTspirit is yet to get our hands on the insane Ferrari 458 Speciale, from all accounts, it is one of the greatest cars Ferrari has ever produced. Considering just how good the regular 458 Italia is, and the fact that the 458 Speciale is more powerful and features a host of new driver focused features, it isn't hard to understand why the Speciale has garnered such praise.
[youtube]http://www.youtube.com/watch?v=pdxpMnp5WQ0[/youtube]
One of the most prominent visual and performance modifications found on the Ferrari 458 Speciale is its new dual exhaust system in place of the triple-exhaust pipe set-up of the standard car. In order to give us an idea of just how impressive the 458 Speciale sounds when being revved, BrianZuk recently filmed the following dark blue example doing just that!
In case you needed reminding, the Ferrari 458 Speciale features a modified variant of the regular 458 Italia's 4.5-liter V8 engine. In Speciale guise, it delivers a total of 597 hp and 398 lb-ft of torque thus making it the most powerful naturally aspirated V8 engine ever produced by Ferrari. What's more, Ferrari claims that thanks to it delivering 133hp per liter, it has the highest ever per liter output of a road-going naturally aspirated engine. Maximum power is achieved at 9000 rpm while max torque is reached at 6000 rpm.
The Ferrari 458 Speciale tips the scales at just 1290 kg and Ferrari consequently claims a sprint time to 100 km/h in just 3 seconds and the car can then hit 200 km/h in just 9.1 seconds. What's more, Ferrari claims that the Ferrari 458 Speciale can sprint around the Fiorano test track in just 1:23.5 seconds thus making it 1.5 seconds faster than the standard car and just .5 seconds slower than the Ferrari F12 Berlinetta.