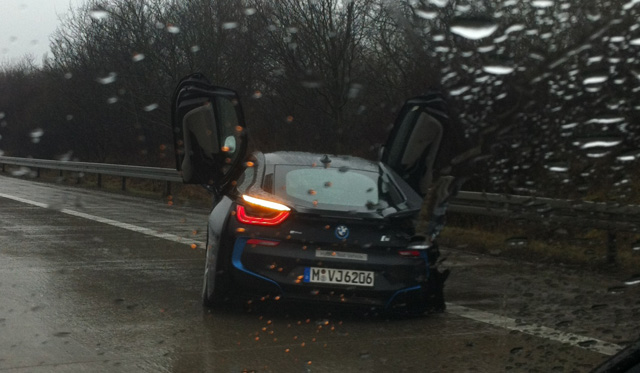 The very first BMW i8 sports car has been crashed and if reports are to be believed, a test driver was behind the wheel of the pre-production model when the 30-year-old lost control of the expensive i8 prototype.
The crash happened on the A 92 near Freising in Germany and the local Police Chief Commissioner believes that speed was a contributing factor. What's more, at the time of the crash, it was raining and the road was very slippery.
According to investigators and witnesses, the BMW i8 prototype crashed into the central median barrier before being flung across the road and coming to a rest in the far right lane. The crash happened at such pace that it is believed the expensive prototype could be a complete write-off with significant wheel and suspension damage sustained.
When it was operational, it is believed this BMW i8 is worth upwards of 200,000 euro because of all the testing equipment it had.
As with all BMW i8s, this example is powered by an aluminium Drive module incorporating a traditional internal combustion engine, two electric motors, a battery as well as all the electronics. That traditional engine is a mid-mounted 1.5-liter turbocharged three-cylinder powertrain pumping out an impressive 231 hp and 236 lb-ft of torque at the rear wheels.
However, BMW wasn't entirely satisfied with those figures and also fitted an electric motor up front which on its own produces 131 hp and 184 lb-ft of instantly available torque. As a result, the BMW i8 produces a total of 362 hp and 420 lb-ft of torque and is good for a sprint from 0-100 km/h in just 4.5 seconds and an electronically limited top speed of 155 mph.
[Via Mietwagen-talk and Merkur]