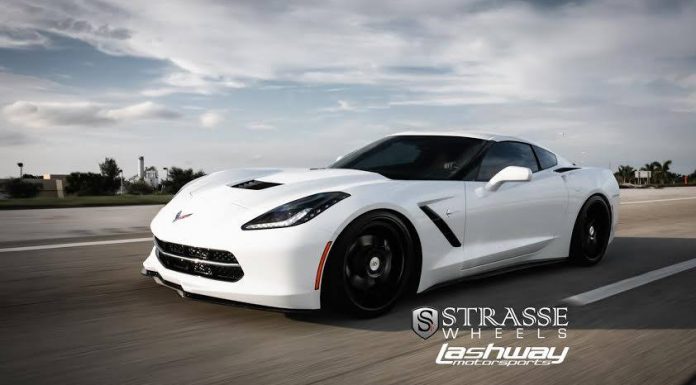 Florida, U.S. based tuning company Lashway Motorsports recently gained some viral attention by being one of the first companies to turbocharge a 2014 Corvette Stingray. Now, that very same Corvette is once again making headlines after being fitted with the world's first Carbon Fiber Series Strasse SM5 wheels.
The Corvette's already aggressive styling is complimented by the blacked out rear fascia and carbon fiber wheels, which measure 20 inches in size in both the front and rear. Lashway also added their own carbon fiber front splitter, side skirts, and rear diffuser. Thanks to the rear-mount turbocharger system, the Corvette is as every bit as fast as it looks.
As a reminder, the stock 2014 Corvette has an 6.2 liter LT1 V8 producing 460 hp and 465 lb-ft of torque, helping to propel the American muscle car from 0-60 in just under four seconds.