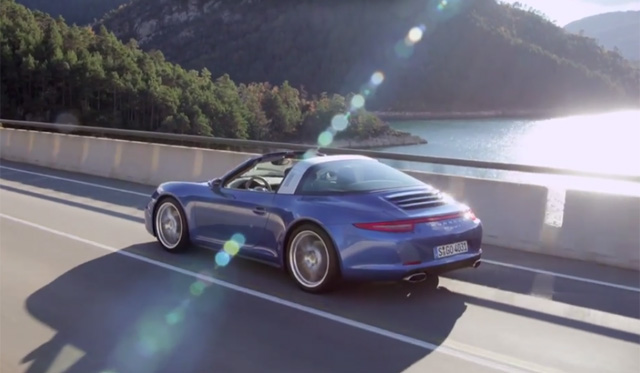 Following on from the recent release of the 2014 Porsche 911 Targa models, the official promo for the car has just been released. Set in some stunning mountain driving roads at sunset with some relaxing backing music, this clip perfectly sums up the driving capabilities of the new 911 Targa while also exemplifying its elegance and luxury.
[youtube]http://www.youtube.com/watch?v=TmUV43aXzY8[/youtube]
Just like the original 911 Targa model, the new Porsche 991 Targa model features a characteristic wide bar in place of the B-pillars. It gets a movable roof section above the driver and passenger, and a wrap-around rear window with no C-pillar. The difference is that the new model can be opened and closed at the push of a button. When fully lowered, the roof top is towed behind the rear seats. The roof is part soft top, part glass rear window.
As the Porsche 991 Targa is based on the 991 4 and 991 4S, it gets a wide-body look. The two models are both fitted with a seven-speed manual transmission as standard. The Porsche 991 Targa 4 is powered by a 3.4-litre, 350 hp flat-six engine. The Porsche 991 Targa 4S 911 Targa 4S delivers 400 hp from a displacement of 3.8 litres.
Equipped with the optional Porsche Doppelkupplung (PDK) double-clutch transmission and Sport Chrono Package, the Targa 4 accelerates from 0 to 100 km/h in just 4.8 seconds and on to a top speed of 175 mph. By comparison, the Targa 4S reaches a top speed of 184 mph and is able to accelerate from 0 to 100 km/h in 4.4 seconds.