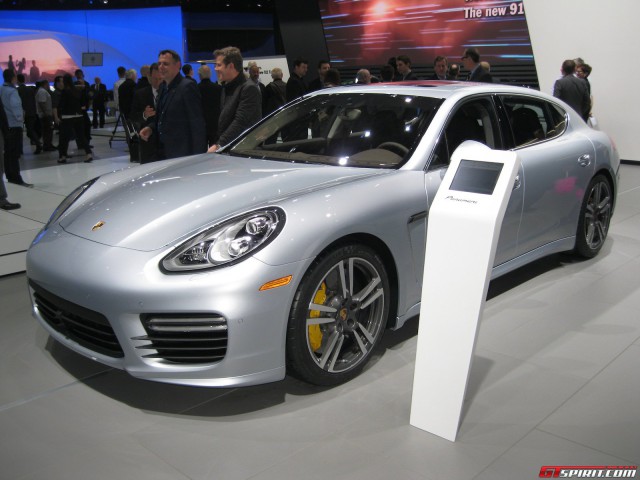 The recently released 2014 Porsche Panamera Turbo S has just been revealed at the Detroit Motor Show 2014. While we previously saw the range-topping Panamera upon its online release in October, this is the first time GTspirit has seen it live, and it certainly lives up to our expectation and we managed to snap the following images!
Under the hood, the 2014 Porsche Panamera Turbo S is fitted with the same 4.8-liter twin-turbocharged V8 engine as the standard Panamera Turbo. However, thanks to new turbochargers featuring larger compressors, higher injection pressure which sees it increase from 20 bar to 140 bar, pistons featuring a new aluminium alloy and specifically coated piston rings, the 2014 Porsche Panamera Turbo S produces an impressive 50 hp more. That results in peak power of 570 hp.
Additionally, these engine changes have seen a dramatic increase of 50 Nm of torque over the standard Panamera Turbo. As a result, the new Porsche Panamera Turbo S pumps out 750 Nm of torque between 2250 rpm and 5000 rpm. When the overboost function is enabled, that increases to 800 Nm. When it is all said and done, the latest Panamera Turbo S can hit 100 km/h in just 3.8 seconds and a top speed exceeding 310 km/h.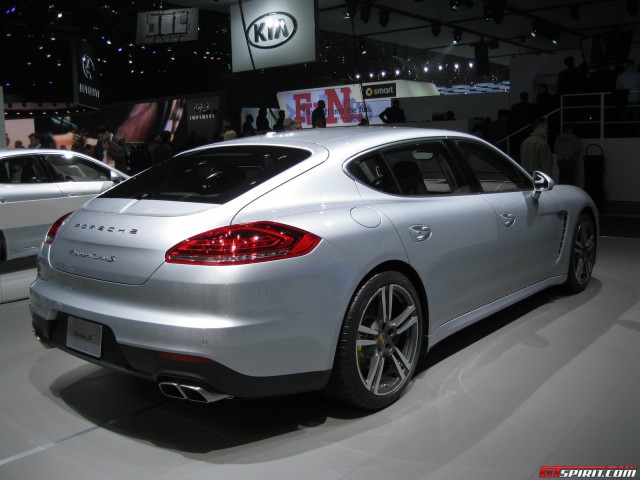 Some of the other key features found in the 2014 Porsche Panamera Turbo S include Porsche Dynamic Chassis Control, an active roll stabilisation system, Porsche Torque Vectoring Plus, Porsche Ceramic Composite Brakes as well as Porsche's awesome active suspension management system.
For more details on the Porsche Panamera Turbo S, take a look at our earlier article. For more news from Detroit Motor Show 2014, be sure to bookmark our Detroit Motor Show news channel!