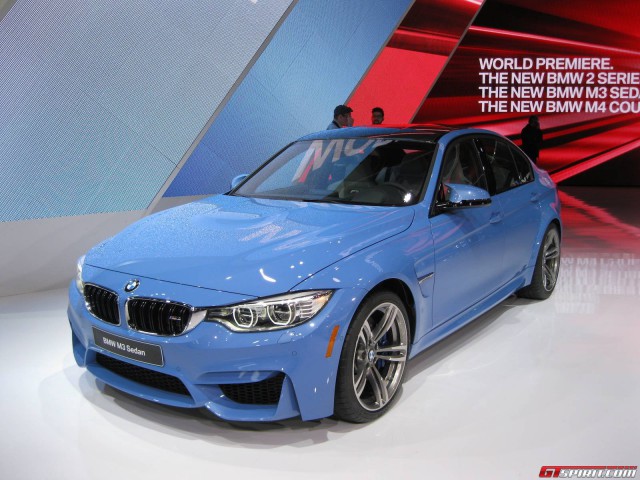 Both the brand new BMW M3 and BMW M4 are on display at the Detroit Motor Show 2014 today. The BMW M3 denotes the Saloon shaped car whereas the BMW M4 is now exclusively designated for the Coupe. We caught up with both on the BMW stand at the North American International Motor Show!
The BMW M3 comes fitted with a twin-turbocharged six-cylinder engine. It revs all the way to 7,600 rpm, producing an impressive 431 hp between 5,390 rpm and 7,000 rpm and 406 lb-ft of torque from as low 1,800 rpm to 5,390rpm. 100 km/h from a standstill is possible in just 4.1 seconds with the optional seven-speed M double clutch transmission. Top speed is limited to 250 km/h but this can be increased to 280 km/h with the optional M driver's package.
The BMW M3 gets a brand new front fascia in line with the current BMW 3-Series range. It incorporates a black BMW kidney front grille, extremely aggressive dual front air intake surrounds and a new bonnet featuring a power dome. Elsewhere, sporty wing mirrors and new twin five-spoke grey wheels are unique and the bare carbon fiber roof is carried over from the outgoing model.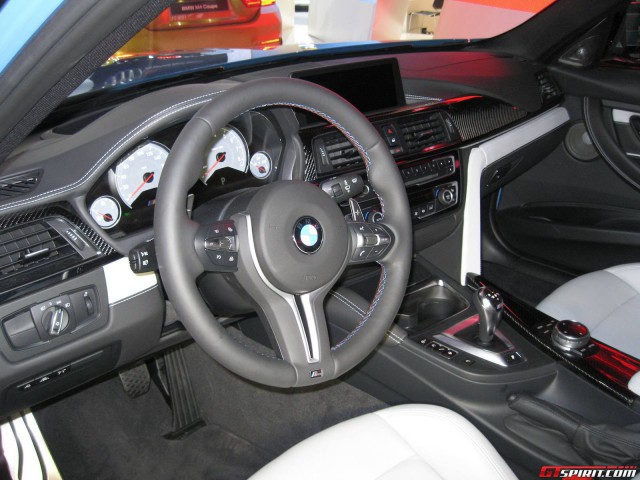 If you want to find out more about the BMW M3, check out our earlier article. For more live photos and news from Detroit, check out our Detroit Motor Show 2014 news channel.