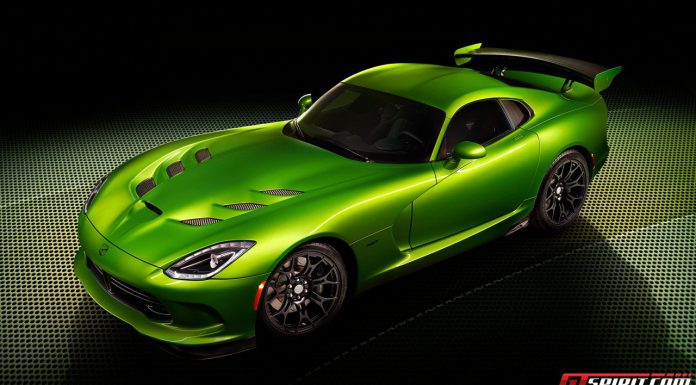 The SRT Viper gets a flashy new paint colour and a raft of new equipment for the Detroit Motor Show 2014. The SRT Viper will wear Stryker Green as an optional extra for the standard and GTS model. The Touring Package also adds extra options for the GTS model.
The paint colour, Stryker Green, is an evolution of the iconic Snakeskin Green exterior color that first appeared in 2008. The paint features enhanced green and yellow pigments for a deep effect. Ralph Gilles, President and CEO, SRT Brand and Motorsports explains:
"The application of the new Stryker Green exterior paint is a very detailed and intricate process, taking approximately eight hours to complete. The process first starts with a base color coat followed by a green-tinted mid-coat and topped off with a clear finish. Each coat application adds depth and accentuates the curvature of the Viper's exterior design."
The Grand Touring package adds standard Nappa leather seats, five-mode Electronic Stability Control and the two-mode Bilstein DampTronic Select suspension to the standard Viper. Both were previously only available with the Viper GTS price class. The GT option package will be limited to the new Stryker Green and Venom Black exterior colors.
The car also wears a Mopar custom bodykit. This Stryker Green SRT Viper showcases a carbon fiber rear wing and extended front corner splitters as well as an exposed carbon fiber performance X-Brace. The X-Brace is almost 50-percent lighter than the production version with the same strength and functional stiffness.