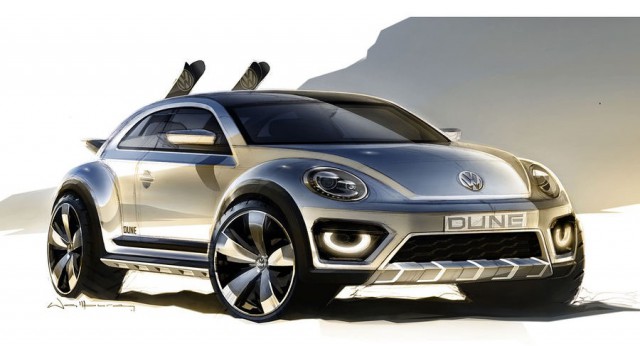 Prior to the long-awaited Detroit Motor Show 2014 kicking off, Volkswagen has previewed one of its stars of the show. Dubbed the VW Beetle Dune Concept, the car is just what you'd expect; an off-roading variants of the iconic VW Beetle. This of course isn't the first time such a Beetle variant has been produced with an off-roading concept being revealed way back in 2000.
While the drawing you see above obviously over exaggerate the overall shape of the upcoming VW Beetle Dune Concept, it does show that the new off-roading Beetle looks much more aggressive than the original concept. Overall, it just looks more capable of going off the beaten trail than the original which is certainly a good thing!
Some of the most prominent features separating the upcoming VW Beetle Dune Concept from the standard car are the new wheels, massively flared wheel arches, new front fascia incorporating an aggressive and tapered lower section. It also features unique circular LED daytime running lights. Elsewhere, we can see new side steps as well as what looks like a small spoiler at the rear. Protruding out from the rear are a set of skis.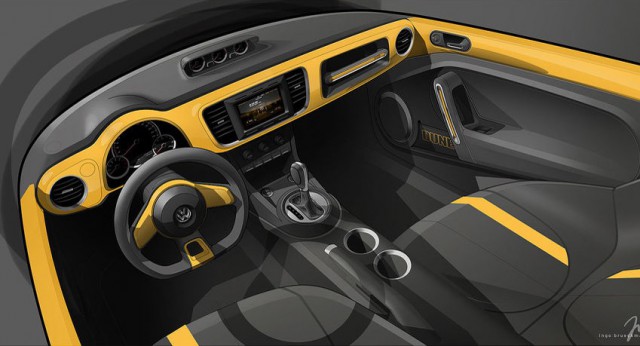 Under the hood, the VW Beetle Dune is powered by a 2.0-liter four-cylinder turbocharged engine mated to a six-speed DSG dual clutch transmission.
Understandably, the car is only a concept. However, reports have emerged suggesting it could reach production by 2015.