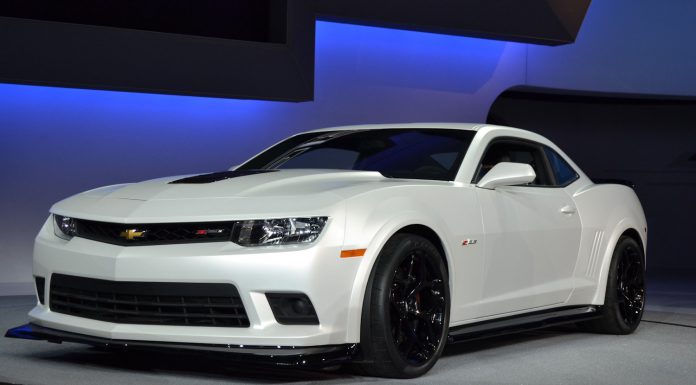 Released at the New York Auto Show 2013 earlier this year, the incredible 2014 Chevrolet Camaro Z/28 is about to hit the market. As a result, Chevrolet has released official pricing details for the car with the suggested retail price starting at $75,000.
That figure obviously doesn't include any optional extras available for the car nor any additional charges select Chevrolet dealerships may apply. By comparison, this starting price means the Camaro Z/28 is almost $18,000 more than the much-more powerful ZL1. What's more, it is well over double the $34,050 price tag of the Camaro 1SS.
While it may sound quite absurd that the less powerful Chevrolet Camaro Z/28 actually costs more than the ZL1, it doesn't take a genius to release that from every technical standpoint other than pure figures, the Z/28 is superior.
Under the hood, the 2014 Chevrolet Camaro Z/28 features a similar 7.0-liter LS7 V8 engine as present in the previous-generation Chevrolet Corvette Z06 with it delivering 500hp and 470lb-ft of torque. Consequently, the car is three seconds faster around GM's test track than the Camaro ZL1.
In order to reduce weight of the car, Chevrolet went about thinning the rear window to only 3.2mm from 3.5mm, and removed the HID headlights and fog lights. As a result of these changes, the 2014 Chevrolet Corvette Z/28 weighs a substantial 300 pounds less than the ZL1 and an impressive 100 pounds less than the performance-oriented Camaro SS variant.
As a result of these features among others, the Z/28 recently lapped the famous Nurburgring just 7 minutes, 37.47 seconds a few months ago. To put that into perspective, it's faster than the 2010 Porsche 911 Turbo, Ferrari 430 Scuderia, Lamborghini Murcielago LP640, Mercedes-Benz SLR McLaren and even the Lexus LFA. Additionally, it's about 4 seconds faster than the Camaro ZL1 and the 2009 Corvette ZR1 as tested by Sport Auto!