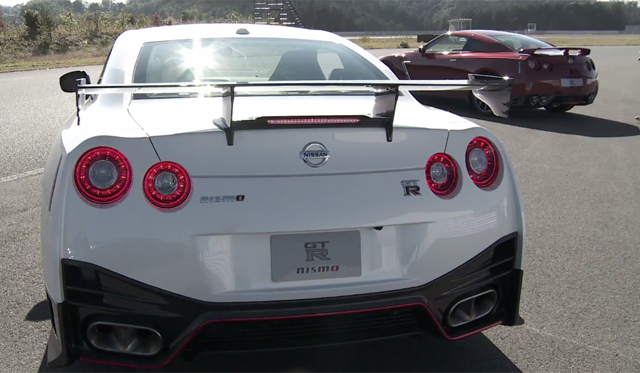 First revealed at the Tokyo Auto Show late last year, the Nissan GT-R Nismo is undoubtedly the most impressive road-car Nissan has ever produced. In addition to lapping the Nurburgring in 7 minutes and 8 seconds, it is more than capable of achieving some stunning lap times on different circuits around the world.
[youtube]http://www.youtube.com/watch?v=Uw4VpJXn41c#t=140[/youtube]
Now, Nissan has released an exciting video of the new GT-R Nismo hitting the Sodegaura Forest Raceway in Japan. While the video has annoying music covering much of the engine and exhaust notes, the video is still worth a watch!
Under the hood, the 2014 Nissan GT-R Nismo features the familiar 3.8-litre V6 VR38DETT engine. It benefits from Nismo's motorsport expertise with engine power now increase up to 591 hp and 652 Nm of torque. To release the extra power, Nismo fitted new high-flow, large diameter turbochargers, which come directly from GT3 racing. Nismo have also optimised the individual ignition timing control for each cylinder and upgraded fuel pump improve combustion.
At the chassis end of the package, Nismo have worked with Bilstein to develop springs and custom Bilstein DampTronic dampers for the front and rear suspension. Three suspension modes can be selected; Comfort, Normal and R for circuit applications. Exclusive Dunlop tyres are also fitted in sizing 255/40 ZRF20 at the front and 285/35 ZRF20 at the rear.