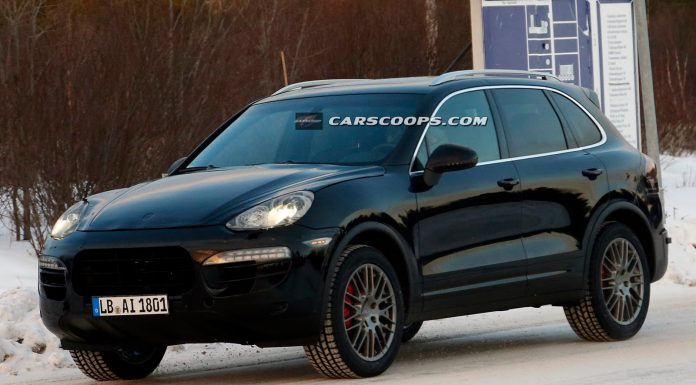 While the second generation Porsche Cayenne has only been on the market for just over three years, a slightly facelifted version of the luxury SUV is already in the works. The following prototype was recently spotted testing in the snow with some camouflage covering some quite prominent styling changes.
First up, this prototype can be spotted with some slight camo covering the headlights and taillights. Additionally, this 2015 Porsche Cayenne prototype is sporting a new front bumper with some modified air intakes. While this new front bumper doesn't look production ready, the completed version will feature some of these design elements.
While the additional images in the link below may not show it, it is reported that this prototype is sporting some dramatically redesigned taillights. As a matter of fact, the spy photographer on hand suggests that behind the light camo is actually lights similar to the slimline units of the new 2014 Porsche Macan.
Under the hood, the 2015 Porsche Cayenne S is set to debut a brand new engine. It will ditch the naturally aspirated V8 powerplant of the current car pushing out 395 hp, in favour of a new 3.0-liter twin-turbocharged V6 engine producing 414 hp and 383 lb-ft of torque. Additionally, the V6 hybrid from the Panamera S Hybrid E could be utilised.
[Via Carscoops]