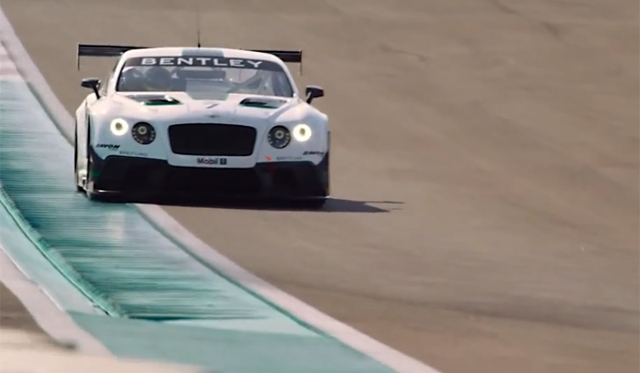 Earlier this month, the Bentley Continental GT3 made its long-awaited racing debut at the Gulf 12 Hours endurance race held at the Yas Marina circuit in Abu Dhabi. Now, Bentley has released the following two and a half minute video showcasing some of the highlights of the Continental GT3's impressive first race outing.
[youtube]http://www.youtube.com/watch?v=EhGNIfTgqZA[/youtube]
What is immediately noticeable about the Bentley Continental GT3 is its extremely unique exhaust note which is much deeper and throatier than its rivals. When the race was completed, the Bentley Continental GT3 managed to impress on its very first racing outing coming home in fourth place in its respective class.
When the six hour mark of the race ticked over, the Continental GT3 was holding down third position. The team then managed to maintain third position until the 10 hour mark when a close fight with a Ferrari 458 GT3 courtesy of Kessel Racing saw the Bentley drop back one position. However, in the final stages of the race, the Bentley Continental GT3 did face its fair share of drama with damage to the floor resulting in a cruise to the finish line.
Behind the wheel of the very first racing-spec Continental GT3 were British racers Guy Smith, Steven Kane and Andy Meyrick. Each of these drivers drove impressively during their respective four hour stints despite the hot and harsh conditions of Abu Dhabi.