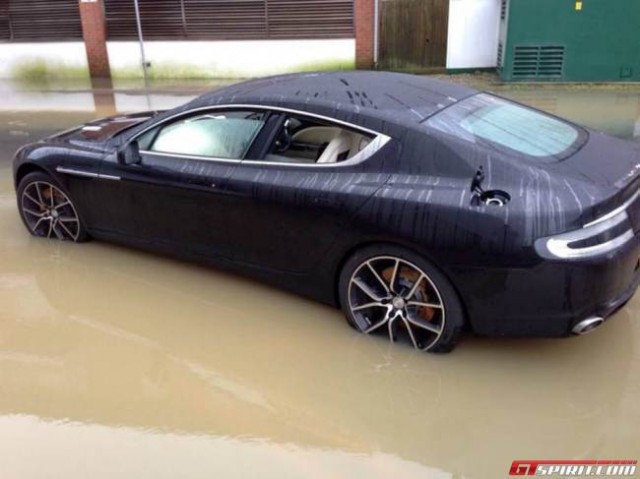 This Christmas was a very wet and windy one in the UK. The British Isles were battered by harsh winds and torrential rains which meant many ares were heavily flooded leaving a number of cars floating away like kayaks in the vast torrents of water.
On Christmas day the owner of the latest iteration of the Aston Martin Rapide, the Rapide S, tried to make a short trip in his 550hp machine, a decision he would soon regret. Water made it's was into the cars gaping front grille and burnt out all of the electrics. All the owner could do was abandon the car!
'I was just trying to get home and it conked out. I thought I'd be okay, but I wasn't,' said the driver, who doesn't want to be named. 'It's alright though, it's only a car. I'm fine, and nobody was hurt – that's the main thing.' We are sure this will be one Christmas he will want to forget!
As a reminder, Rapide S features a 6.0 Liter V12 engine producing 550 horsepower and a torque of 457lb-ft at 5,000rpm. It will reach the 60mph mark in 4.7 seconds, quicker than the former Rapide which only manages 5.1 seconds. The top speed of the Rapide S is 190mph. The ride is improved with Gen4 Adaptive Damping which allows the driver to choose between three modes; Normal, Sport and Track.
Via: METRO