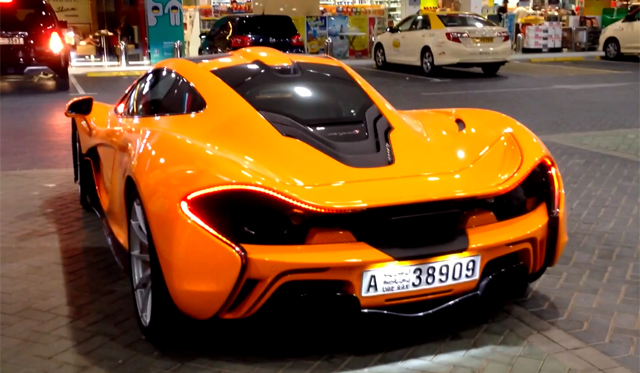 In addition to the very first customer ordered 2014 Ferrari LaFerraris being delivered, deliveries of its main rival the McLaren P1 have also commenced just before this year comes to an end.
One of the first McLaren P1s to be delivered to its brand new owner is the following bright orange P1 located in Dubai. This particular McLaren P1 is sporting silver wheels and features some additional color matched orange accents at the rear end. Additionally, it features a little bit of extra orange at the front end where bare carbon fiber normally lies.
[youtube]http://www.youtube.com/watch?v=S8Gp__q348E[/youtube]
The car itself needs no introduction. In case you've been living under a rock for the past year, here's a quick summary… The McLaren P1 is a limited production hyper car, built in Woking by McLaren Automotive. Only 375 examples will ever hit the road, McLaren have already announced that every one of those is allocated to a customer.
McLaren have marketed the car with focus on its aerodynamic profile. It produces a class-leading 600kg of downforce, thanks in part to a rear spoiler that extends rearwards by up to 300mm on a racetrack, and by up to 120mm on the road.
The engine is a 3.8 litre V8 producing 727 bhp and 719 Nm coupled to an electronic powerplant with 176 bhp and 260 Nm.
Both, combined have an output of 903 bhp and 978 Nm. The McLaren P1 travels from 0 to 100 km/h (62 mph) in 2.8 seconds, 0 to 200 km/h (124 mph) in 6.8 seconds and 0 to 300 km/h (186 mph) in 16.5 seconds!