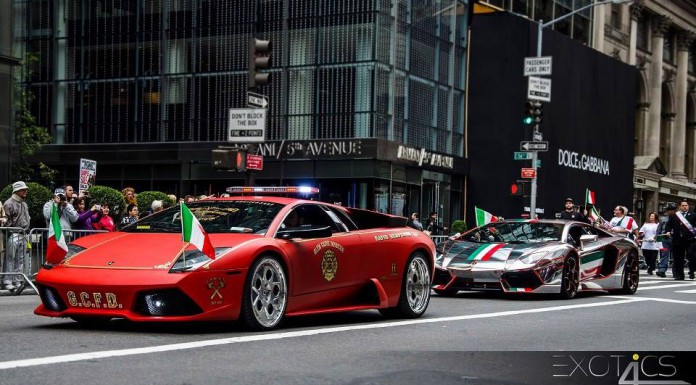 Wild Lamborghini's are no stranger to the streets of New York City, especially when Bryan Salamone is involved. Salamone is a divorce lawyer who loves everything outlandish and flashy. You might recall that he drove his chrome Lamborghini Aventador on the Gumball 3000 rally in 2012. Salamone also showcased his flashy Aventador at Lamborghini's 50th Anniversary Grand Giro event in Italy.
Accompanied by Martino Auto Concept's fire-truck inspired Lamborghini Murcielago, these two Lamborghini's certainly stop people in their tracks. Both Martino Auto Concepts and Team Salamone are currently gearing up for the 2014 goldRush rally, which is slated to embark on May 31st from Las Vegas, NV, and head East to New York City, NY.
Team Salamone is preparing to unveil their 2014 rally vehicle. We're expecting an outlandish wrap to be displayed on the car, but Salamone hasn't announced what his 2014 rally car will be. Recently, Salamone purchased a Verde Scandal green Aventador Roadster.
Team Salamone and Team Martino Auto Concepts have both confirmed their attendance on goldRush Rally 6, and are teams 001 and 004 respectively.