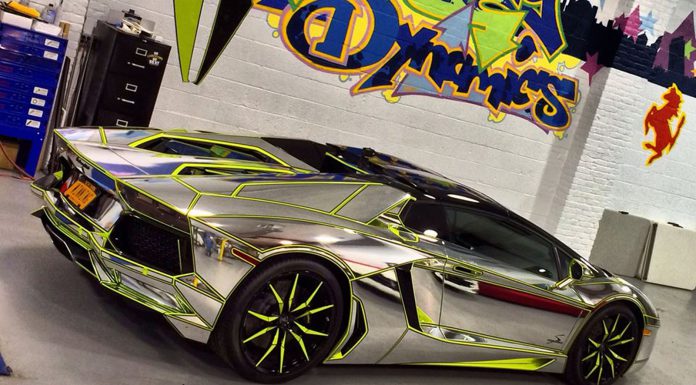 Bryan Salamone loves his cars, but he loves to show off his cars even more. Salamone is a New York City divorce lawyer who loves to have fun. We first heard about Team Salamone during the 2011 Bullrun rally from Las Vegas to Miami, where he drove his green Lamborghini Gallardo on the rally.
With the rally bug starting to set in, and a brand new Lamborghini Aventador having just arrived, Salamone signed up for the 2012 Gumball 3000 rally. But he decided to go big with a custom chrome wrap with orange accents. The car saw a lot of buzz on the internet, sparking both love and hate towards Salamone.
Now, he's at it again. Salamone recently took delivery of a 2014 Aventador Roadster. Having recently sold his Aventador Coupe, his new Roadster model would become his new rally car. This year, Salamone signed up for the goldRush Rally from Las Vegas to New York City. Today, Salamone announced what his brand new Aventador Roadster would be wearing on his next American road rally adventure.
We're not surprised he chose to wrap his new Roadster in chrome. But it certainly stands out. With custom green accented wheels, and green body accents, the car does command attention. Some might love it, others might hate it. But this sort of bold look is absolutely perfect for road rallies where everyone is trying to make a personalized statement. We look forward to seeing Team Salamone partake in the 2014 goldRush Rally, which begins May 31st in Las Vegas, NV and ends June 7th in New York City, NY.