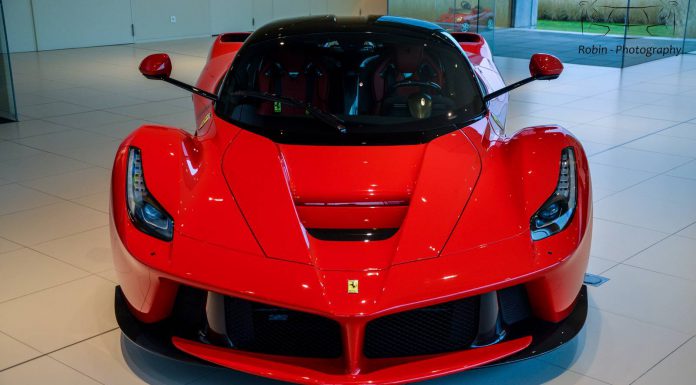 The most extreme, most powerful and possibly most eye-catching Ferrari to have exited the Maranello production facility has now arrived at a dealership in Belgium. The car currently lives at Monza Ferrari dealership in Saint Denis Westrem, where it is awaiting its new owner.
The LaFerrari made its official debut at the 2013 Geneva Motor Show, and instantly became the fastest production Ferrari in the company's history.
Powered by a mid-mounted 6.3-liter V-12 engine, which pushes out 789 horsepower, is further supported by a pair of electric motors that bring total output to 951 horsepower and 664 lb-ft of torque. A seven-speed dual-clutch transmission helps direct that power to the rear wheels, and enables a 0-to-60-mph run in less than three seconds.
The LaFerrari body design and styling received no input from Pininfarina, making it the first Ferrari since the Bertone-styled 1973 Dino 308 GT4 not to sport Pininfarina bodywork or styling input. This decision is a rare exception to the collaboration between Ferrari and Pininfarina that began in 1951. Ferrari has stated that two new models designed jointly with Pininfarina are yet to be unveiled and that there are no plans to end business relations with Pininfarina.