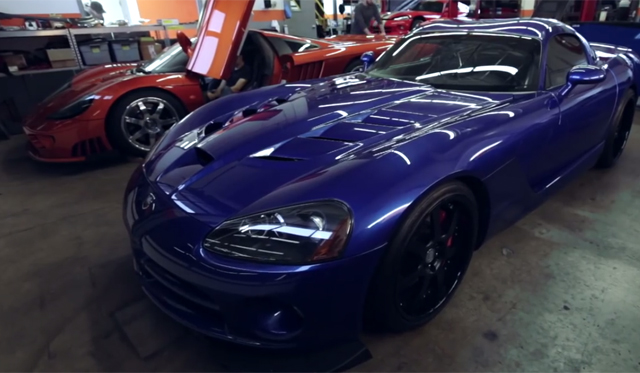 Twin-turbocharging the mighty Dodge Viper is nothing new. The latest company to tune the Viper SRT10 is Nth Moto and the following blue Viper is their ultimate creation.
Under the hood, it features a duo of TiAL turbochargers with hand fabricated 5-1 stainless steel turbo manifolds, air to water intercooler system as well as billet aluminium CNC machined intercooler endtanks. Additionally, the 2006 Dodge Viper SRT10 by Nth Moto includes a custom electronics package with all the vital components of the car being measured live. These include the fuel systems, fuel pressure, crankcase pressure and backpressure.
[youtube]https://www.youtube.com/watch?v=KvW-anJXoqk[/youtube]
The car also features traction control, launch control, boost control as well as a brand new sequential transmission allowing for rapid shifts without lifting off the gas. Finally, the Dodge Viper SRT10 by Nth Moto includes adjustable upper control arms both front and rear, a Nth Moto fuel system, NHRA certified rollcage and parachute as well as a dry sump oiling system.
When you combine all of these upgrades, this awesome twin-turbo Viper recently managed to produced 1323 whp on the dyno while running on standard 93 octane fuel!