Tuners RevoZport have been tinkering with the stunning Lamborghini Aventador and after releasing a teaser a couple of weeks ago, they have offically unveiled the 820hp LaMotta exclusive for GTspirit! This Raging Bull is engineered to be agile, powerful and stylish in all aspects of the LP700 but the changes have not been made just to look good, the standard car looks great, but instead to have a real effect on the way the car performs. The priorities of the project were to strip out unnecessary weight whilst producing extra down force and a linear power upgrade.
To achieve these targets, the tuners first shed 80kg the original LP700 from 1600kg to just 1520kg with the extensive use of carbon fibre and other material including a carbon hood which weighs only 3kg, a pair of beautifully stitched Alcantara carbon fibre seats, carbon door panels, a new rear bumper and air tunnel all resulted in the drastic weight reduction. The aerokit comprises of a front extended lip with canards, side skirts, complete rear bumper with a more aggressive air tunnel design and the trunk spoiler all of which not only look fantastic, but increase downforce.
Performance has been boosted substantially to 820hp, this could have easily been achieved using a forced induction unit, but RevoZport refuse to use any turbo charging for big HP gains and look for a more linear power gain and retain the beauty of the normal aspirated engine. They opted for a new set of inconel exhaust system (weight only 5kg) and a complete revised ECU mapping from its engineering team in UK.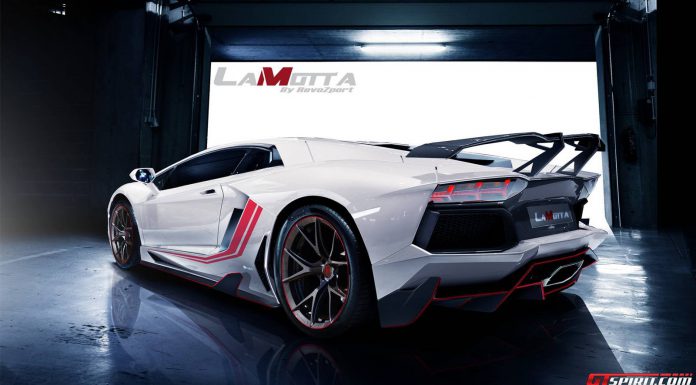 As with the majority of tuning projects RevoZport opted to swap the stadard cars wheels for a design that is better suited to the changes that have been made. The new design are made by Klassen ID with aerospace grade aluminum alloys forged and heated to achieve the ultimate strength and savings of 1-1.5kg weight savings over the original LP700 wheels. This set of 20″ & 21″ wheel are specially designed to fit the LP700 and a special offset for LaMotta.