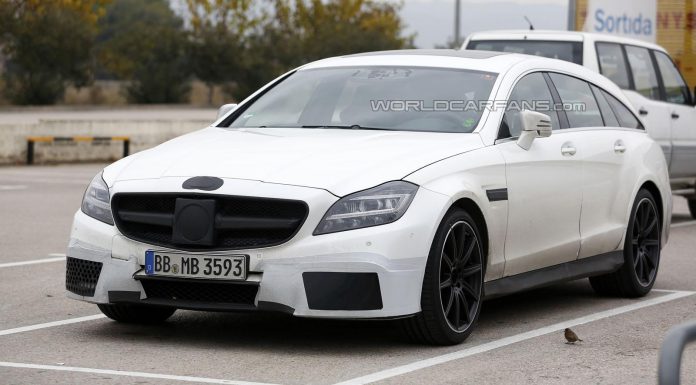 The facelifted 2015 Mercedes-Benz CLS 63 AMG Shooting Brake has been out testing for many months now. However, these latest spy images show the updated luxury estate up close and personal for the very first time. Consequently, we get our best look at the updated CLS Shooting Brake thus far.
Looking from the front, this Mercedes-Benz CLS 63 AMG Shooting Brake is sporting a slightly revised front bumper with new dual front air intakes and a slightly revised central splitter and grille. As you can see by following the link below for more pictures, at the rear, this prototype features tape covering the CLS 63 and AMG badging, but there is no mistaking this car for what it is. Most notably from the back are the traditional quad tailpipes.
Under the hood, the 2015 Mercedes-Benz CLS 63 AMG Shooting Brake is set to feature a 5.5-liter twin-turbo 5.5-liter V8 engine producing an impressive 557 hp and 720 Nm of torque. In addition to the standard CLS 63 AMG Shooting Brake model, we can expect to see an S-Model arrive soon after. This slightly upgraded version will feature the same engine but will see power rise to 585 hp and an incredible 800 Nm of torque.
An official debut is expected next year.
[Via World Car Fans]