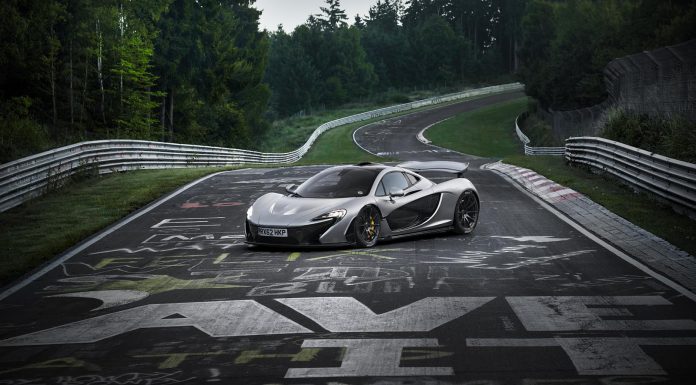 Just yesterday, we brought you the incredible video of the McLaren P1 hitting the Nurburgring. Unfortunately, McLaren has yet to reveal the official lap time for its brand new supercar. However, the British automaker has revealed additional information and images about its recent outing at the Nurburgring-Nordschleife.
McLaren claims that the P1 lapped the 'Ring with an average speed in excess of 178 km/h or 111 mph. With some simple calculations, an average speed of 178 km/h across the 12.9 mile circuit results in a time of 6:59.87, just a couple of seconds slower than the 918 Spyder. However, until McLaren reveals an exact average speed, we'll never know for sure just how fast it was.
While discussing the sub-7 minute lap time, McLaren Formula One driver Jenson Button said, "The fact that the McLaren P1™ has posted a sub-seven-minute lap at the Nürburgring is unbelievably impressive.
"Over the past dozen-or-so years I've owned a lot of ultra-high-performance road cars. I've driven the McLaren P1™ on a number of occasions – including up the hill at the Goodwood Festival of Speed, where it was sensational – and I think it's a truly superb machine: unbelievably refined yet unbelievably quick.
"But, as I say, for it to have recorded a sub-seven minute lap time around the Nürburgring is the icing on the cake: proof positive, backed by hard data, on the greatest racetrack of them all, that McLaren has created a genuine game-changer."

On the way to setting this insane lap time, the McLaren P1 XP2R prototype was driven from Woking, England straight to the circuit and was able to achieve some other stunning performance attributes at the facility. Down the Dottinger Hohe straight, the P1 hit its electronically limited top speed of 330 km/h in Race mode. What's more, at the famous Karussell corner, the McLaren P1 achieved an incredible 3.9g! By comparison, the Porsche 918 Spyder was unable to reach 300 km/h on the long straight.