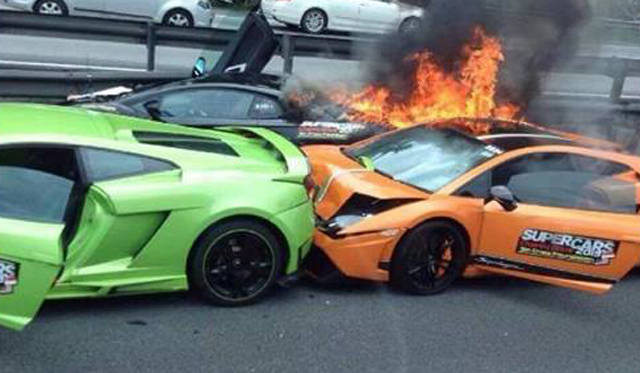 A trio of Lamborghinis consisting of two custom Gallardos and a stunning Lamborghini Aventador, have crashed and gone up in flames in Malaysia.
According to reports, the three Lamborghinis were driving in convoy on their way to a charity drive. However, a local driver swerved into the convoy and caused the orange Gallardo LP570-4 Superleggera to rear-end the other while the Aventador went straight into the steel crash barrier.
Based on these images, it appears that the fire started at the back of the Aventador and before long, all three Lamborghinis were burnt to the ground with nothing but their wheels still standing.
More information about the crash will inevitably arise very soon, but either way, the Malaysian driver responsible for causing the crash will face a hefty bill if not covered by insurance!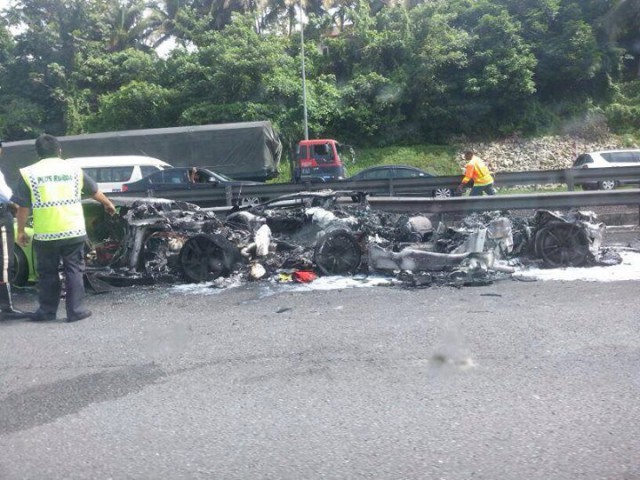 Fortunately, all involved in the crash were uninjured.
When these cars were still functional, the Gallardo LP570-4 Superleggera was fitted with a 5.2-liter V10 engine producing an impressive 562 hp. Consequently, it could hit 100 km/h in just 3.4 seconds and a top speed of around 320 km/h. By comparison, the standard first-gen Gallardo pictured here comes with a 5.0-liter V10. Finally, the Lamborghini Aventador comes standard with a 6.5-liter V12 engine producing 692 hp rocketing it to 100 km/h in jus 2.9 seconds!
[Via Nicholas TJR]