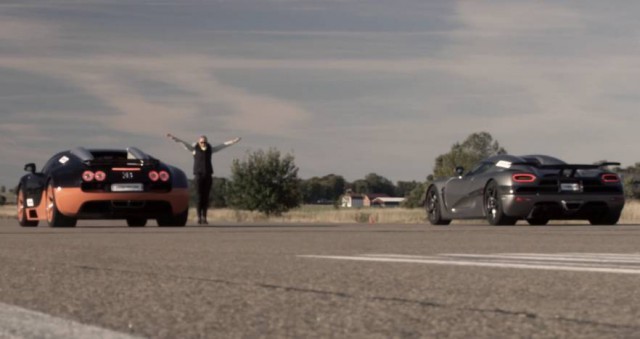 A few weeks ago we featured an epic video featuring the Bugatti Veyron Grand Sport Vitesse and the Koenigsegg Agera R racing against one another from rolling starts. The Koenigsegg proved that weight is more important than outright power.
[youtube]http://www.youtube.com/watch?v=GaKhDSspNOw[/youtube]
A second video has now been revealed of the two cars racing from standing starts. The all-wheel-drive of the Bugatti should surely make this a much closer contest! The Vitesse has the Agera R beaten on power. Its 8-liter W16 shoves out 1,184bhp to all four wheels where the Agera R produces 1,124bhp just to its rear wheels. As a result on paper the Vitesse is 0.3 seconds quicker to 100 km/h completing the sprint in just 2.6 seconds.
Brute force is not always the best way though. The Vitesse weighs in at 4,162lb considerably more than the, in comparison, featherweight Agera R which weighs 3,164lb. This race should be a very close one!