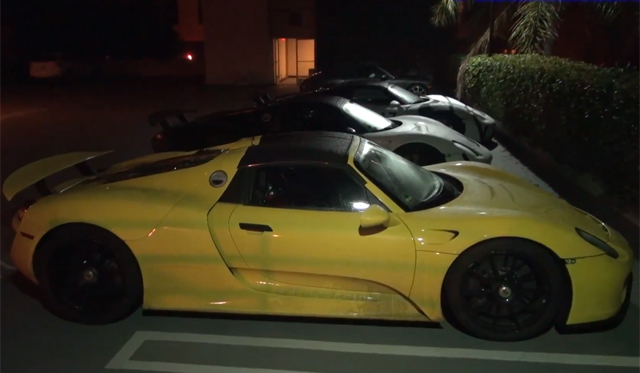 Because customer deliveries of the 2014 Porsche 918 Spyder have yet to begin, spotting one of these incredible German hypercars is a unique experience indeed. However, spotting not one but five prototype of the Porsche 918 Spyder in the U.S. really is a one in a lifetime experience and that's exactly what this lucky YouTuber stumbled across.
[youtube]https://www.youtube.com/watch?v=XA4fp0edIqA[/youtube]
All of these five 918 Spyder prototype were spotted at this one hotel which as it happens, is a place where Porsche stores many of its prototypes because it is the only hotel in LA where the 918 Spyder can be plugged into a multitude of charging stations.
Among those five Porsche 918 Spyders was chassis #000 as well as a never before seen bright yellow one!
As a reminder, the top-of-the-line Porsche 918 Spyder comes with the Weissach package. When specced with this optional performance pack, the car sprints from zero 100 km/h in just 2.6 seconds, 0.2 seconds faster than the standard model. It takes just 7.2 seconds to travel from zero to 200 km/h in 7.2 seconds (a 0.5 second reduction), and 19.9 seconds to pass the 300 km/h mark (a 2.1 second reduction). Needless to say, this is the car that set the Nurburgring lap time!
To achieve the dramatic increases, Porsche places the 918 Spyder on a diet! It sheds around 36 kg thanks to innovative measures such as a full-body film wrap instead of paint, magnesium wheels, a weight-optimised brake system with titanium components, wheel bearings with ceramic balls, a CFRP anti-roll bar at the rear axle and a CFRP prop on the luggage compartment lid.