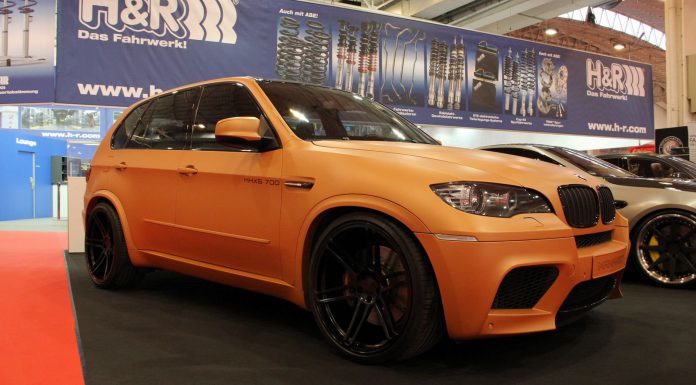 Tuners Manhart Racing have been hard at work tuning BMW's to have them ready for the Essen Motor Show and they certainly did not disappoint! With three model at the show based on the the X5 M, M135i and the M6 coupe the stand definitely is one of the most popular.
The Bronze BMW X5 M is very impressive impressive. The huge car combined with its aggressive certainly do make an impression but whats under the hood is even more exciting. The X5 M is a powerful car but has nothing on the Manhart example that now has 700 HP!
The engine is the same as that of the stander cars, the S63 4.4-liter V8 engine, but now there an extra 140 HP and 376 extra Nm of torque, reaching the fabulous 1,056 Nm figure (779 lb-ft) of torque. Manhart say that these extreme figures were achieved only through ECU optimizing, which makes it seem even more of an engineering feat!
In addition to that, you will notice the Manhart exhaust downpipes, straight pipes with valve control and new mufflers that result in this 4X4 sounding more like a supercar than anything else! Suspension comes from KW and the stunning foil is bronze matt metallic.